How to Implement a Great QR Code Campaign
Posted on by
Timothy Boyle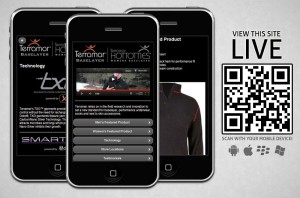 There is far more to QR code usage than you might suspect at first glance.  In fact in order to start, implement, and maintain a QR code campaign there are important points you should know, and certain tool attributes you should be looking for before choosing what company to use for your QR code creation and maintenance.
Sure you can always simply print out a QR code and attach a link to your desktop website, but this sort of primitive usage provides little benefit, no knowledge, and ensures your QR code campaign will be a total flop.  The probability of this type of QR code user saying something like "Oh my God, QR codes are sooo dumb," is probably 100%, give or take 0%. Of course the reality might not be that QR codes are dumb, but actually that something (or someone—hint, hint) might actually be.
Mobile Web Site
If you are going to use a QR code you MUST make sure that the QR code connects to a mobile web site.  This means creating a separate website meant specifically for mobile phones and tablets so that the user interface is easy to navigate.   Who wants to create their own mobile site though, and pay for it?
QR Code and Mobile Site Analytics


To understand if your QR code campaign is working you must have a way to track your many QR code's usages.  For this you must have analytics, that is every scan and following usage must be trackable and all data on said user accumulated.  This data collection will then ensure that you see what is working and what isn't, allow the campaign to be more appropriately targeted in the future, and allow changes to be made during the campaign to determine the most productive usage of the codes.  It is important that each individual code be trackable as well.  But really do you even know how to go about setting up tracking on each code for each mobile site?  Unlikely.  If your QR code is pointing to a mobile landing page, which it should be for optimal user experience, then tracking how visitors use your mobile site is important for the same reasons.
Features of Your QR Code Campaign
Various other features that are important are as follows:
URL shortener, to ensure a less dense code for easy scanning.
Maps for directions and locations.
Contact or capture forms, to allow for capturing of more user information.
Social media buttons, to allow easy access to the various social media channels.
Some of these are mainly for your mobile websites, and the guy you pay to create your site will likely have these available, for a price.
Use a Mobile Marketing Platform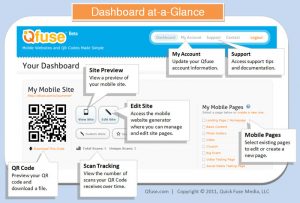 Really in the end what you want is a single platform that offers all of the above and more, and means you don't have to be hassled with the complexities of it all.  Well it just so happens that Qfuse has such a platform.  From the Qfuse platform you can generate QR codes, and tied to each code is a mobile web site that can be easily molded to fit your design preferences and include all the features you might need, such as vCards, maps, GPS, contact and capture forms, coupons, social media, pictures, videos and much more.
From the Qfuse platform you will have access to detailed QR code analytics to allow for learning on the fly.  In addition, from the Qfuse Dashboard you will be able to view all of your QR codes in use, make changes to the landing pages, and easily manage you QR code campaign(s).
Using a platform that incorporates all of the important functions needed to implement a great QR code campaign, and continually manage such a campaign, is vitally important to the success of your marketing and advertising QR code operations.  Make sure you find a good, easy to use platform, and one that is reasonably priced…of course we all know that describes Qfuse perfectly.
---