Posted on January 23rd, 2014 by
Timothy Boyle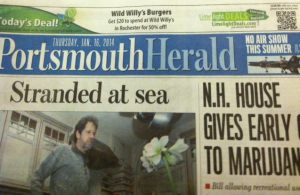 I picked up my local paper last week and the first thing I noticed was a large print advertisement across the top of the front page and a QR code in the corner.  I thought to myself that this is one of the rare times someone actually seemed to know how to properly use a QR code.
Using this QR code as an example I hope I can elaborate on how you should use QR codes for your own particular need, specifically for physical advertisements.
In this case the advertisement was for LimelightDeals.com, a company that helps to promote local deals in local advertisement campaigns.  In particular the advertisement highlighted a special deal for Wild Willy's Burgers in Rochester, New Hampshire, where you get $40 for the cost of $20.  A pretty great deal if you are looking for an inexpensive night out.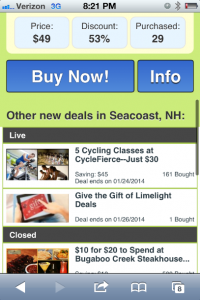 In a traditional advertisement though, the conversion ratio probably wouldn't be terribly high since it would require the consumer to remember to visit the site later.  So not only might they just be too lazy to type in the web address, they might also forget to check it out later when they are in front of their computer.
In the actual advertisement we see here though, they have added a QR code and taken the advertisement into the 21st century.  What this QR code intends to do here is dramatically increase the conversion rate of newspaper readers.  Now people simply have to take their phone out of their pocket and they are directed to a landing page where they can take advantage of the deal immediately.  They are now more likely to act on the advertisement, increasing the value of the advertisement for all parties involved.
The QR code, in this particular case, then takes the consumer who scanned the code to a landing page with the specific deal (at least it should, have, instead I was taken to a deal on a local spa).  From here the consumer can purchase the deal, but not only that, the mobile website is set up to show other deals in the area for other local companies.  So if someone goes to buy this particular coupon they will also see other's that they might be interested in.  Thus helping boost local business sales as well as LimelightDeals.com sales.
This is one way in which you can drive other sales through your QR code by sending consumers who scan the code to a landing page where there are other special deals or similar content for sale.  Now instead of simply seeing an advertisement and having some tiny percentage of consumers act on it perhaps later in the day or week you now have an advertisement where consumers can immediately act and you can use this immediate action to show them not only the content on the physical advertisement but other content as well, meaning they may purchase even more.
What a QR code is really quite good at is providing consumers with an easy tool to access information, deals, entertainment etc., at the exact moment they are most interested.  People are also lazy, so the easier you make it for them to access these benefits the better off your advertisement will be.
Using QR codes on your physical advertisements to provide relevant content to your consumers—if used correctly—will ensure more sales, greater brand interaction, and a more successful advertisement campaign.  Just make sure you use a QR code platform that will let you reach your advertisement campaign's maximum potential with all the right technical tools.
No Comments
| Read more by
Timothy Boyle