4 NFC Best Practices
Posted on by
Timothy Boyle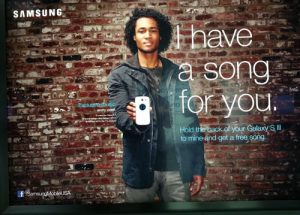 If you plan on using Near Field Communication (NFC) anytime in the near future, before you do so it would be wise to read up on NFC best practices.  Below are the four most important things you must ensure are done to perfection if you want to have a successful NFC campaign.
Have a Clear Call-to-Action
The call-to-action (or CTA) is arguably the most important concept for your entire NFC marketing and advertising campaign.  If you plan on using NFC tags then you are clearly expecting that your target consumer will engage with your marketing and advertising material using their smartphone.  In order to make sure this engagement occurs you must convince the consumer to tap their phone to said NFC enabled advert.  This means making sure the poster or magazine ad tells the consumer exactly what they will get upon doing using the NFC tag on your piece of mobile marketing material.   Creating an enticing visual image, writing out a short explanation or some other creative way of getting your message across are all good calls to action.  Always ask yourself if you would take the time to tap the NFC tag in your own advert if you saw it in public.
Mobile Landing Page
It is infuriating when I tap an NFC tag and am taken to a lousy desktop website, they are hard to navigate on a smartphone and usually I end up quickly exiting.  If you are going to use NFC technology you should also know that anyone who has access to NFC capabilities while on the gos MUST have a smartphone, so why wouldn't you create a mobile website that is compatible with this NFC technology?  A mobile website will ensure less people leave your page and will likely increase the performance of your site.  The only other option besides a mobile landing page would be if you are trying to get people to download your app, song or video, in which case they should be directed straight to your app download page, iTunes, or YouTube etc.
NFC Analytics
Tracking the data of your NFC tags is vitally important and can greatly enhance your overall campaign productivity if you are using an NFC marketing platform that allows you to track performance down to the individual tag.  The sort of analytics data that should be collected is how many people are taping the tags, what they are doing after they reached your page, what type of person is taping the tag, and which NFC tags are being tapped the most.  This data allows you to first tell if people are actually taping your tags overall, but second, assuming you have a NFC-enabled mobile marketing platform that allows this, you can then see which tags are being tapped the most and learn why this might be so and either make changes to your campaign on the fly, or use the information for future campaigns.
Content Visitors Care About
If the content of your tag is boring then why bother using an NFC tag?  The consumer will simply exit your mobile landing page and probably never tap an NFC tag again.  So make sure you provide your visitors with relevant or interesting content.  This might mean a contest to win a prize, free music download, a fun game, coupons or special deals, or really anything that you yourself would find useful, enjoyable or fun.  Ask yourself if you would use the content you are considering providing.  DON'T simply connect to your desktop (or mobile) website.  That is bound to get a lot of page exits.
Do these four things and your NFC marketing campaign cannot fail.
---