Great Use of QR Code: Extended Stay America
Posted on by
Timothy Boyle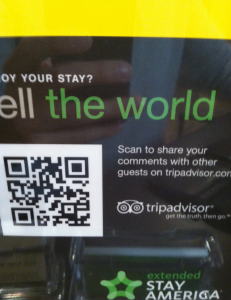 It isn't very often I find a very well done QR code, so when I do you can be sure I will blog about it.  Most QR codes I scan usually have serious flaws or at least a couple smaller flaws, this one on the other hand had none.
I was checking into my Extended Stay America hotel in Massachusetts when I started reading the sign on the counter-top in front of me while the lady did whatever she needed to do with my license and credit card.  The table-top display contained a QR code and a great call to action stating "Enjoy your stay?  Tell the world.  Scan to share your comments with other guests on tripadvisor.com."   So I did.  First check I had a good QR code campaign on my hand.
Upon scanning the low-density QR code (second check) I was taken to a perfect mobile optimized website that was simple to navigate, clean looking, and got right to the point as mentioned in the call to action (check three).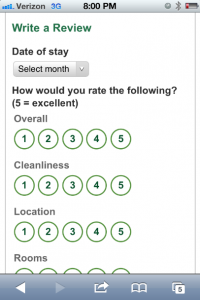 But it was really the overall purpose and execution that makes this a perfect use of a QR code.  The counter-top display tells me what it is I will get upon scanning, and then takes me to a quick and easy to use mobile page that lets me tell the world about my experience in their hotel.  This is a great way to help promote their facilities—of course it helps when the entire hotel was just remodeled and your hotel room has a full kitchen in it.
Upon grading and writing your review it is instantly uploaded to tripadvisor.com, securing this mobile experience as one of my best ever, and ensuring that it is indeed a perfect use of a QR code.
If you are planning on implementing a similarly great QR code campaign a platform that helps ensure you adhere to generally agreed upon best practices and allow you to manage many codes and mobile sites in one place you would do well to check us out at Qfuse.com.
---