QR Code Case Study: Magic Hat Brewery
Posted on by
Timothy Boyle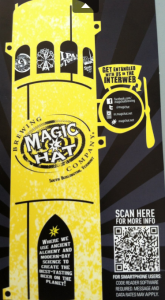 Magic Hat Brewery is located in South Burlington Vermont, and they have a great track record of how to market and advertise generally and how to do so to their target consumer; so it is no surprise to me that they have been using QR codes for a while and using them well.
I was recently in Burlington, VT and picked up one of their latest marketing brochures to be used as a case study on how to use, or not use, QR codes.
I have seen other QR code uses by Magic Hat in the past, some were good, others were not (they used to have their codes directed to their desktop website home page instead of a mobile optimized version).  This particular QR code was done very well, so let's take a look at what they did right.
What Magic Hat Did Right
First, you will notice that the QR code stands out well enough and a call to action exists, though maybe not the most interesting call to action you will ever see as it simply says "Scan here for more info."
The main purpose of the marketing brochure is to advertise for their brewery tours, hoping to attract visitors of the area like myself.  The marketing brochure is only so big and can only fit so much information on the two sides, so what Magic Hat did was include a QR code that potential visitors can scan "for more info".  So despite it not being the most interesting reason to scan it is probably very relevant to someone looking at the brochure.
Upon scanning you are then taken to a fantastic looking mobile optimized site (no longer are they using their desktop site as the landing page! Yay!).  Here you are provided with some history and information about the brewery, information about free guided tours, summer and winter hours, directions, a link to a map, a list of their current beers on tap, as well as contact information.  Everything that a visitor of Burlington might need is accessible by scanning the QR code and is a perfect use of the technology even if it isn't the most exciting use of it.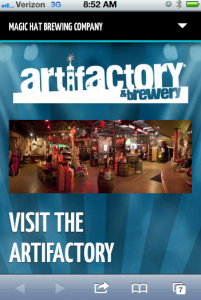 With QR codes you want to give the potential target exactly what it is they might want at the time they scan the QR code.  In this case what the target would likely want is simply more information, and so that is what Magic Hat provided.
Think about what your target audience might want or need and link them to a relevant landing page, and don't forget to include a call to action, a mobile optimized page and adherence to all the other QR code best practices.  It's also useful to track QR code scan analytics and the visitor engagement information from the mobile site.

Did you enjoy this article?