QR Codes and Direct Mail Marketing
Posted on by
Timothy Boyle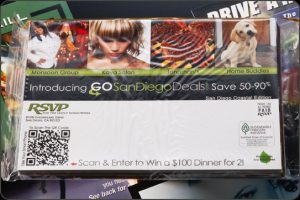 Businesses of all types have used direct mail as a way to reach out to potential customers and drive sales, and if done right, this traditional marketing and advertising method can work well.   Problems do exist however, but QR codes can solve these problems and add even more to your direct mail campaign then you might think.
Extending the Reach of Your Direct Mail Marketing
The biggest problem with such marketing is the small space available on most simple print materials.  This limits what you can communicate to your customers, forces tradeoffs with regards to coupons, advertising specials, or providing any other information that you may want to provide to your customers.
Quite often the traditional direct marketing material fails to interest or engage the consumer and they simply ignore it, or are quickly disengaged.
The use of a QR code here solves both issues.  First, the QR code, being attached to a well designed mobile website (assuming you have adhered to our QR code best practices), allows you to greatly increase the information provided to the potential customer.  For example, you might focus on using your direct mail piece to spotlight and explain a particular product.  On the mail piece you would then place a QR code with a call to action explaining to the customer that if they scan the code they will be directed to a mobile website with coupons for the product being advertised.
You might also use the QR code to engage your customer by directing them to a game, or some interactive mobile site, or your company's app.  Just make sure you clearly state what benefit they will receive by scanning the code, and make it easily visible.
Capture More Qualified Leads
The use of QR codes also has the advantage of allowing you to capture possible leads.  For example you might include a code on your direct mail piece and direct your potential customer to scan the code to get a coupon.  They could then be directed to a page where they must input their name, email address and whatever other information in order to receive the coupon.  This customer is now primed for future contact, and has already shown their interest in your product, so all future contact should mean a greater chance for a sale.
Be creative with your QR codes and be interesting.  Give the customers what they want, and don't simply link to your boring and incompatible desktop website; that'll be a sure way to lose their interest.  QR codes can greatly enhance the usefulness of your direct mail campaign, just be smart and think before you use a QR code.

Did you enjoy this article?