For Car Dealerships QR Codes Are an Obvious Choice
Posted on by
Timothy Boyle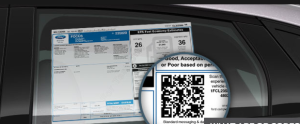 Every industry has their own special issues and their own problems, and for every industry they must develop ways to overcome these problems and issues.  Many of them may never be solvable but others might be completely remedied or limited with new technological advances, loads of cash, or simply a bit of creativity.  The auto sales industry is no different.
Engaging Customers Without Sales People
What happens when a sales person is already helping a customer, and say one or two other customers show up at the same time?  Likely those other two customers will lack patience, as most human beings do, and never be helped because they got frustrated that the sales representative had the nerve to help someone else, and thus they simply left after the longest two minute wait in the history of their lives.
What happens when a customer shows up after or before hours and there is no one there to help them?  Likely they will never be seen on the lot again.
What happens when someone would simply like to look around without being hassled by a sales person?  Likely they will not receive the information necessary to help them become interested enough to make a purchase, and a sale might be lost.
These are just a few of the potential problems a car dealership might have to deal with, but you can rest assured there are many others.  In regards to these though, they could all be solved by using QR codes.
The QR code remedy is pretty simple; it requires placing a QR code on all cars.  When these QR codes are scanned (due to a fantastic 'call to action,' which would obviously be present due to the users reading of our QR Code best practices sheet) they would take the customer to a mobile optimized site that provided all sorts of relevant information.  For example, they might be directed to a video of the specific car, or pricing information, or consumer reports ratings, or the warranty information or really anything else you can think of to help a customer acquire the necessary information to make a purchase.
Using this simple technology limits the number of lost sales due to all of the problems listed above, by creating a substitute for a sales representative for when they are unavailable or not wanted.  A QR code is simple, cost effective mobile marketing technology to capturing more sales leads, with absolutely no down side.  If you own a car dealership you have no excuse to not use this technology.
---