QR Codes Help Engage Wine Enthusiasts
Posted on by
Carol Hansson
There is only so much room available on a wine label. When I picked up a bottle of Cabernet Merlot from Gehringer Brothers, I noticed a QR code on the back. The label itself mentions partial tasting notes: "A stylish/traditional blend of Cabernet Sauvignon, Cabernet Franc and Merlot, gives essences of plums, cassis, chocolate and spice. Tannins are smooth and soft, with subtle French oak notes. Partners well with lamb." (I always wonder who writes these notes; they sound so poetic!)
The QR code opens a whole new dimension into the idea of tasting notes. The QR code brought me to the wine's page on the Gehringer website, which mentions the sweetness code (0, or dry), what the blend percentages are (50% Cabernet Sauvignon, 20% Cabernet Franc and 20% Merlot)—and it also provides me with a price just in case I'd like to stock my cellar with this wine.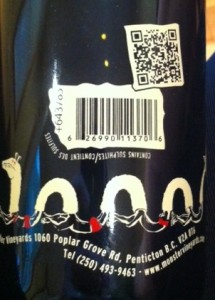 Some wineries go so far as to include only the QR code on the back of their bottle—take for instance Red Eyed by Monster Vineyards. The back of the bottle includes a UPC, plus the QR code—other than a stylized Ogopogo (the Monster, I suppose), it's just the address of the bottle. What a way to keep your bottle lines crisp and clean, but still provide information for your customers!
Some hints to creating an effective QR code:
Ensure that the QR code remains registered. Three of the codes I scanned did not work because they weren't registered.
QR code best practices include creating a white space around the code (making it easier to read) and creating a black code on a white background. (Although the Red Eyed code was white on a black background; this one worked because there was little to no interference, I think.)
Tracking is important! Just like analytics for your website, tracking on your QR code will allow you to figure out the pertinent information on your customers and the products they choose—which product is more popular, in which area, that sort of thing.
Test! No matter how perfect you think your code is, testing is extremely pertinent – if a QR code doesn't work, there's no real point in having it.
The use of QR codes for wineries and vineyards is expanding dramatically; not only can they be used to provide tasting notes, but for recipes as well. Instead of just mentioning that a wine is paired well with lamb, what about a specific recipe that uses the wine in the preparation of the dish itself?
Are you interested in using QR codes and mobile technology in your winery or vineyard? Instead of muddling on your own, take a look at our best practices. For superb and sophisticated mobile websites, and a platform that will help you track your campaign and is light on the pocketbook, check out Qfuse.
---