QR Codes and Business Cards
Posted on by
Timothy Boyle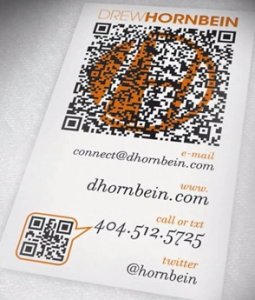 Business cards are a small yet important part of almost any business or profession.  They are an extension of yourself or your company, and are often the only physical connection your potential customer will have to connect with and remember you by when you depart.  Unfortunately business cards are small and contain very limited amounts of information.  They fail to fully recap what you can do for the client or impress upon a potential customer why they should choose you over someone else.
Using QR Codes as an Extension of Your Business Card
There is of course a remedy for this:  QR codes.  Due to the small size of a business card including a QR code can help ensure the potential customer will always have access to the information you deem most relevant, and ensuring that even if you aren't in front of the person, they can refresh their memory about you or learn more about your work.
There are many potential uses for QR codes being placed on your business card, but we will cover a few of them here.
Give Visitors an Easy Way to Download Your vCard
One potential use of a QR code is upon scanning having the landing page present an option of a V-Card.  What a V-Card does is allow the person, with just a touch of a button, download your contact information into their phone contacts, so if they ever lose your business card they will always have your contact information.  Simple and useful.
A slightly more creative use, in addition to the V-Card, is to include a bio or 'about' paragraph to explain in more detail what makes you stand out.
Direct Your QR Code to a Company's Mobile Optimized Website
You can also direct the landing page to your website or your company's website.  However, if you are going to do this you need to make sure it is a mobile optimized site, and that the content is relevant to what they might be interested in.  Perhaps you are an artist and wish for them to see your latest works on you site; this would then be a good use.  If, however, you are a Financial Adviser and you are simply directing them to the home page of your company's desktop website, you have just wasted their time; this is a terrible use of a QR code.
Provide an Easy Link for Visitors to Engage with on Social Media Channels
You might have a link to your Facebook page, twitter feed, RSS feed or any other social media outlets that you think might be of interest to your prospective customer.  Or perhaps link towards some professional journal article you wrote, law brief, or whatever other information might be relevant and point out your expertise in an area.  Make it easy for your visitors to engage with you on social media channels through their smartphones.
The uses for QR codes are endless, but so many people have yet to fully grasp their use.  Starting with your business card is an easy, useful first step in grasping the abilities of QR codes for your business and career.  Just make sure when you do so you adhere to our best practices, and make sure you have an easy platform to develop your QR code landing pages, are able to access scanning analytics data and do all of this for a low price.
---