Perfect QR Code Use
Posted on by
Timothy Boyle
I was strolling around Best Buy on a lovely Saturday afternoon and was surrounded by hundreds of QR codes as Best Buy places them on most of their product tags to let you scan them and learn more about each product.  This QR code however—though a good idea for tech stores like Best Buy—was not the perfect QR code I referred to in my title.  The QR code that I speak of was the QR code used by Keurig for their K-CUP product packaging, which I discovered after commenting to my girl friend about how much I wanted one.
After admiring the many great flavors, I noticed the QR code on the front of the Keurig box and promptly analyzed everything about the code.  After my analysis it seemed to be an almost perfect QR code use, and thus a great example for other organizations of how to use this technology right.
The first thing I noticed was the good call to action: "Discover More.  Scan with your smartphone and learn more about the world of Keurig."  This call to action is perfect in that it indicates to the consumer what to do with the code and also what the code will do for them upon scanning, in this case allowing them to learn more about Keurig.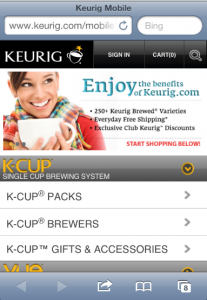 Next I scanned the code and was taken to a beautiful mobile optimized website, in fact it was probably one of the best I have ever seen.  This type of quality mobile website is what every business large or small must have in today's market, particularly if you are going to be using QR codes of NFC technology in your marketing campaigns
The mobile website here is great not just for its look and functionality, but for what if offers.  You can use the mobile site to learn more about Keurig, the K-CUP, and their other products like the Vue and the Rivo just as the call to action stated.  In addition to this however, you can also make purchases right through site for all coffees, teas, and other flavors, perhaps some that are not offered at Best Buy, thus helping to increase potential sales and make things more convenient for the consumer.
The mobile site also lets consumers register to receive deals sent to them through email, provides them with an incentive to sign up.
The only negative thing I would comment on is that they should mention the fact, in their call to action, that they can also make purchases and can register for deals by scanning the QR code on the box.  Other than this single criticism, this is clearly a perfect use of QR codes and their mobile website.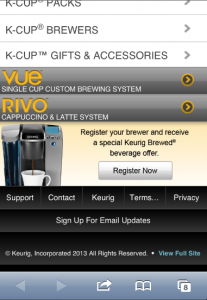 For anyone reading this trying to figure out how to use QR codes and mobile technology, this is how it is done.  For more help please be sure to read our best practices.  For an inexpensive platform that allows you to track your campaign, provides you with great looking mobile websites, and helps ensure you are using the technology correctly, be sure to check out Qfuse.
---