Misto® Olive Oil Spray, QR Codes and Product Packaging
Posted on by
Timothy Boyle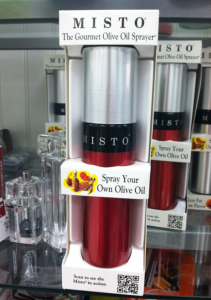 I was recently dragged out on a shopping trip on a beautiful Saturday by my lovely girl-friend, and found myself somehow roaming around a home goods store looking for vital necessities to liven up and beautify our kitchen.  You would be hard pressed to find a better way to spend a Saturday.
As I eagerly looked for the perfect product to place on our kitchen counter, I was soon drawn to a particular accessory I never knew I needed until now.
The product that caught my eye was the Misto® Olive Oil Sprayer.  It caught my eye not just because of the sleek look, but because of the beautiful product packaging and predominantly placed QR code.
I have written before about how QR codes can be utilized on product packaging to achieve certain ends, for example: to help sell a product, drive sales for related goods, or simply provide additional value for the product at hand.  This particular example of Misto® on the other hand provides additional value, but also instructions on its use as well as its other benefits over competitors.
The QR code is one of the few things you notice right away when discovering the product for the first time.  My eyes, at least, were drawn to it immediately after I learned what the product was.  I then proceeded to scan the code to find out more about the product.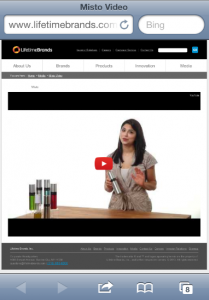 Scanning the code took me to a website with a video, clearly meant to be watched by the consumer.  This video then went on to explain how the sprayer worked as well as emphasize how the Misto® Sprayer does not use chemicals or propellants like its competitors, making it the better choice for the environment.
This use of a QR code is very close to ideal in how such codes should be used on product packaging.  The one big exception is the lack of a mobile optimized landing page which makes navigation for the consumer very difficult.
The only other issue, though not a serious one and not necessarily one that was performed here, is that QR codes work best if the consumer feels as though they will benefit in some way from scanning the code.  For this to happen it usually works best to offer the consumer something and make it clear in the call to action.  In this case Misto® is simply offering more information about the product and a visual guide as to how to use their product.  This is less about offering the customer something like a coupon or discount and more about educating the customer and providing instructions for after purchase.  A productive use nonetheless.
Product packaging is a perfect place for QR codes to be used, just remember to adhere to our best practices, and use a platform that will make your QR code experience easy and provide you with all the tools you need to ensure a successful campaign.

Did you enjoy this article?