London Buses and NFC Tags
Posted on by
Timothy Boyle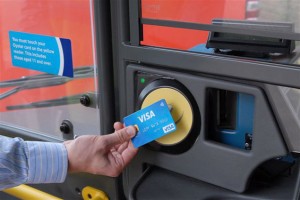 In December of 2012 the Transport for London began installing NFC compatible readers into their 8,500 buses.  The purpose of doing so was to make the customer's experience better and decrease the number of cash transactions (cash transactions are costlier than other transactions).
This adoption of NFC technology allows any customer who has an NFC enabled card (most are compatible already) to simply swipe their credit or debit card over the sensor and pay the fare.  The alternative is digging around for change or purchasing a separate bus pass.   Not nearly as convenient.
As of April 2013 TfL reports that they have now surpassed 1 million NFC scans, from over 10,000 commuters, and the number of NFC users are growing by 1,000 every week.  These NFC payments account for 20% of all bus payments.  And to date, every single bus of the 8,500 bus fleet has recorded at least one scan though with certain bus routes getting much greater NFC usage than others.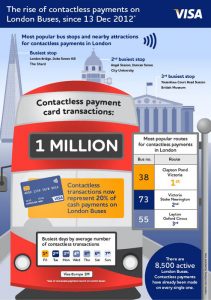 This is a perfect example of how the NFC technology can be of great practical use.  It allows for a much more efficient payment method, ensuring quicker payments, safer payments, and more convenience to the customer and the business.
This type of usage works well for large companies with millions of transactions, but it is certainly not limited to such companies.  Even small companies could benefit from this technology by providing easier payment transactions for customers, whether in a retail store, park, or any other business setting that accepts payments.
With the success of this NFC usage in London, you can likely expect other cities to begin copying this use, and it's about time.
For help with your NC campaign be sure to check out the Qfuse platform and see how it can make you life much more efficient.
Wanna Try Our QR Code Platform For Free?