Artist Turns to Bitcoin QR Codes
Posted on by
Chad Dorman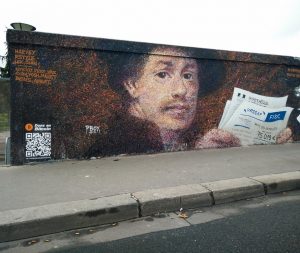 A street artist in Paris has developed a strategy to eradicate the "staving artist" persona. Pascal Boyart is a mural painter who is incorporating bitcoin QR codes in his artwork allowing him to leverage cryptocurrency and receive donations from members of the public who enjoy his work.
Absolutely brilliant.
According to some sources, the trend has caught on and driven a large volume of attention to Pascal, and people have been making contributions up to $1,000 in bitcoin. By including QR codes in his paintings and asking for donations, Boyart secured notoriety when one of his works – a mural painting of Rembrandt, the famous Dutch painter – began trending on the Bitcoin subreddit. Discussion on the forum noted that the mural was well done and that including the bitcoin QR code idea was innovative…and we cannot agree more.
New crowdfunding services like Patreon and Ulule are enabling artists like Boyart to be more fiscally independent, but for many reasons, those platforms do not do enough. Cryptocurrencies like Bitcoin have created a new viable option to help make cash-strapped artists make ends meet without leaving their fiscal stability in the hands of dealers or corporations looking to secure profits. Turning to the accessibility of QR Codes further helped to make this dream of Pascal's into a reality. Paying with a bank mobile app using a QR code is the fastest and most convenient payment method available and, just as he mixed his paint colors, Pascal was able to blend QR Code payments and the hot commodity of Bitcoin to find success.
Cited:
http://bitcoinist.com/street-artistincorporating-bitcoin-qr-code-artwork/https://thenextweb.com/hardfork/2018/05/08/street-art-cryptocurrency-bitcoin-qr/https://btcmanager.com/street-artist-makes-0-11-btc-by-incorporating-bitcoin-qr-code-in-artwork/
Image via: Reddit
---