Using QR Codes for Non-Business Means: Framingham Memorial Day Soccer Classic
Posted on by
Timothy Boyle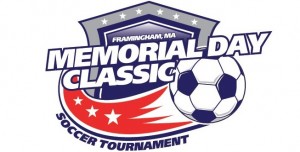 Most of the time we focus on how QR codes can help a business' marketing and advertising, or how they can provide additional value to customers and increase customer loyalty, rarely do we cover how QR codes can be used in non-business ways.  That stops now.
QR codes, and specifically the Qfuse platform, have been used to great affect at the annual Framingham Memorial Day Soccer Classic.  The tournament includes over 110 teams, playing at various locations with thousands of players, referees, families and friends in attendance.  You can certainly expect that for such huge tournament there might be some logistical problems for all of those involved.
Indeed, for these people in attendance, trying to keep track of the schedules, the fields each game is on, finding directions to the various locations, and important local facilities, is a tough feat.  In order to help solve these problems the man in charge of the tournament, Scott Vermilya, decided to use Qfuse and QR codes to solve this potential logistical problem.
What he did was place a QR code on signs around the tournament locations that upon scanning directed the person to a mobile optimized page with all the tournament info you could possible need.  This included the schedule for every team in the tournament, where each game was being held, directions to all of the facilities, and even a map to the nearest hospital (which came in handy for one family at last year's tournament).
Using the QR codes allowed everyone to scan the code and have access to all of the tournament information at their finger tips for the entire weekend.  Scan the code once and keep it open in your browser and you don't need to scan it again.  Close your browser and access it again at any time by scanning one of the many codes posted around the tournament grounds.
This use of QR codes and the Qfuse platform meant that far fewer trees needed to be chopped down and turned into thick soccer schedules, and the information could be easily accessed by all those involved, and unlike a paper booklet, the information on the mobile site could be updated in real time to show game results, changing schedules, or re-locations.
What Mr. Vermilya and the Framingham Memorial Day Soccer Classic show us is that QR codes, if used correctly, can be a fantastic resource for these sort of large events, whether its sporting events, concerts, or what have you, the uses are endless and the benefits are great.  And like Mr. Vermilya experienced, Qfuse makes the process easy and professional.
To read more about this particular use be sure to check out this recent article in the Boston Globe.
---