Product Packaging, Food, and QR Codes
Posted on by
Timothy Boyle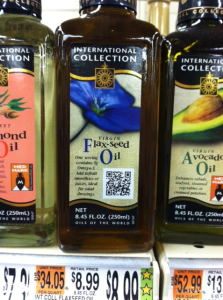 One of the many great uses for QR codes is on product packaging, and recently while I was at the super market doing my usual food shopping I was reminded of just exactly why this can be such a great use.
Every individual acts, and every act is a reasoned decision—some more properly reasoned than others.  When it comes to making decisions about what foods to purchase there is no difference.  People choose foods based on any number of reasons, from tradition, to taste, to cost, and nutrition.
Some of these reasons may be more cemented in stone than others, but most can be changed if given the right incentives and/or information.  This is where QR codes come in.
A QR code on your product packing is simply a tool which, in the case for food stuffs, is meant to help drive sales, and/or provide additional value and information to current or potential consumers.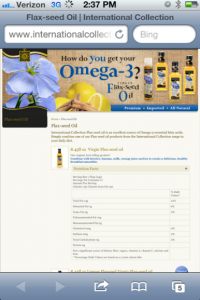 Take this International Collection Flax-Seed oil I saw at the store.  Though it may lack a call-to-action, and a mobile optimized site, it serves a purpose (even if it could be greatly improved).  When you scan the code you are given more detailed nutritional information, a YouTube video on cooking with Flax-Seed, numerous ways to use Flax-Seed in your diet, a list of the many flavors they have, and an option to purchase them online.
This QR code, if presented properly with a good call-to-action, has the potential to convince non-flax-seed users to switch over from say a vegetable oil or some other oil; convince current users to use more by presenting them with new and creative ways to weave the oil into their diet; or get current users to try new flavors of their favorite oil and purchase them online.
This can be done for almost any product on the super market shelves and is an inexpensive way to drive sales, particularly since few products use the QR code tool as of right now.
Use the QR code to differentiate your product from other similar competing products, explain the benefits of doing so; find out why consumers generally choose another product over yours and market towards converting those consumers, or simply try and use your code to drive your online sales if applicable.
There are many possible ways to use QR codes to connect with consumers and benefit all parties involved, it's time now, if you aren't using this tool, to get on board and stand out among your competition.  I even, just by happenstance, know of a company that might be able to help.
---