QR Codes on Technical Apparel
Posted on by
Timothy Boyle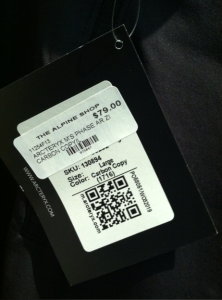 I was at the Alpine Shop—a ski, snowboard and winter apparel store—in Burlington, Vermont last week and was searching for some new technical apparel for the ski season.  Most of the apparel all looks similar, and rarely can you fully understand why one style costs so much more than another.
Unless there were a bunch of employees working the store all with an expert depth of knowledge on the subject, you likely have to figure out the difference for yourself, or with minimal help from employees (who aren't always, and can't be expected to be, experts on each item in the store).
So I was walking around checking out the different apparel options and not really making much progress, until that is, I found a brand of technical wear that included QR codes on their tags.  As you might have guessed I was like a child on Christmas morning.
When the QR code was scanned it directed you to a mobile optimized page that explained everything you could possibly need to know about that particular piece of apparel.  Everything from the purpose, to the features, the materials, and more was at your fingertips.  It was simply genius.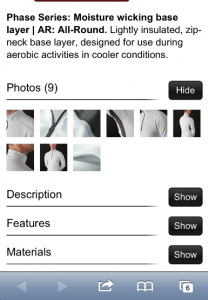 Now I didn't need an expert employee.  I could finally figure out what was what because some forward thinking company (Arc'teryx) decided to make everything easy for their customer and retailer, by providing the information that is important in making the proper decision about their technical apparel.
It is this sort of additional value that QR codes can help provide, and in turn, help drive sales.  Do you think I purchased a product that I could find little to no information on, or the product that gave me every technical detail I could ask for, including its preferred purpose for use?
Giving customers the information they need to make educated decisions is a great way to help all parties involved.  And particularly because so few companies in the market use this tool right now, any company that does is sure to stand out and reap the rewards.
Don't get left behind.  If you are a technical apparel company or some other business where proper decisions should be based off better information, you should strongly consider using QR codes to help provide this information to consumers at the moment they are making their purchasing decisions.
---