NFC and Virtual Stores
Posted on by
Timothy Boyle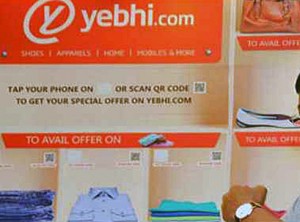 I have written in the past about using QR codes as a way to set up virtual stores where customers can simply scan the codes on each item graphic and make a purchase with their smartphone, but I have not discussed this same possibility with NFC.
In the same way QR codes can be used to allow a virtual store to be placed anywhere—a train station, a street corner, etc.—NFC can also be built into the same graphics and used as a way to make purchases as an alternative to QR codes or simply in addition to QR codes.
This trend towards QR codes and NFC for such purposes is only speeding up, even abroad in countries you might not suspect.  In fact in India a company called Yebhi.com is using NFC in this exact way.
Using NFC Tags to Drive Sales
Yehbhi is an Indian fashion and lifestyle retail company and last month they launched a NFC virtual store campaign (QR code compatible as well) throughout some 30 cafes in Delhi and Bangalore.  Each poster will have photos of particular items, and each item will have a corresponding NFC tag and QR code.  To purchase the item you simply wave your smartphone near the item or scan the QR code and the item will be shipped to wherever you desire.
This is a great way to drive online sales and allow the customers to physically interact with a brand.  It allows customers to literally make an impulse purchase upon seeing an item they might like, and do so with incredible convenience.
Obviously these sort of virtual stores work best in areas of high traffic, but not hectic traffic.  They are best where people are mulling about or waiting for something like a train or bus.  But the potential of such a use of the NFC tag (or QR code) is impressive, and this should certainly be considered by any retail store looking to drive online sales through mobile websites.
If you are looking for a all-in-one mobile marketing solution to help you run your NFC or QR code campaign look no further than Qfuse.  Your life will be made easier by giving it a try.
Wanna Try Our QR Code Platform For Free?