Mobile Advertising and Toys "R" Us
Posted on by
Timothy Boyle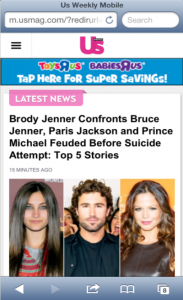 The future of advertising is on mobile, and if you are not there yet you need to start planning to be.  Desktop advertising is still important, but with the switch of many internet users from desktop to all, or mostly mobile internet usage, mobile advertising has become vitally important to any business.  It is also important to note that this trend towards mobile is not going to slowing down any time soon.
The growth of the smartphone and tablet industry is fueling this transition, and companies—both large and small—must learn to adapt.
One large company that has fully grasped the power of mobile is Toys "R" Us.  They recently announced that they will be starting a massive new push of mobile advertisements, something they have used similarly and successfully in the past.
This new advertising push by the company will offer mobile coupons to customers to entice them to click the ad; a great way to drive up the conversion rate for their ads (offering the customer some valuable benefit is always a good idea if you want your advertising campaign to succeed).
Along with the coupon there will be a store locator that allows the consumer to find the closest retailer if they would rather shop in a physical store, or they can simply shop on the mobile optimized eStore.  The coupon can then be redeemed in-store by simply showing the cashier the coupon on their smartphone, or by entering the coupon code at the online checkout screen.
This sort of mobile ad is something all companies should be doing, whether you are a larger company like Toys "R" Us or a smaller more local based mom and pop type store.  No matter what the size of the company mobile advertising can be used to fit your target audience and help increase sales the same way desktop ads can be customized to your target audience.
If you do start to use mobile advertising be sure you follow Toys "R" Us' example and run an enticing ad that clearly indicates a great value to the customer and links to a mobile optimized website to ensure you do not lose a customer to your hard to navigate desktop eCommerce store.
Also be sure to have the professional backing and support you will need to a successful mobile advertising campaign.  Qfuse, after all does a lot more than just QR codes.

Did you enjoy this article?
One response to "Mobile Advertising and Toys "R" Us"