Portsmouth New Hampshire: A QR Code Case Study
Posted on by
Timothy Boyle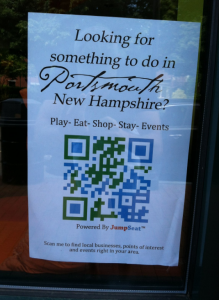 I live in a small coastal New Hampshire city named Portsmouth; the same New England town where the War of American Secession began (contrary to popular belief it was not concord MA) in case there are any history buffs out there.  Portsmouth is located an hour north of Boston, 45 minutes south of Portland, ME and roughly the same from the mountains; it is quite possibly the perfect location to live (assuming you ignore winter).
Portsmouth's history, it's dining, night life, coastal setting, and undeniable adorableness as a perfect old New England town, means that tourists and other casual visitors will be making their way around the city.  This means they might not quite be sure of what to do, where to go, or how to find their way around.
This problem for the tourist is a problem that local businesses should, and did, take advantage of.  If the tourist doesn't know where to go, why not advertise your restaurant, or retail establishment, and help them figure out where to spend their time and Federal Reserve Notes?
Well I was hanging out during Market Square day—where every living soul and in the surrounding area and their mother head downtown for live music, unhealthy food, and adult libations—and saw a great QR code advertisement attempting to help tourists and casual visitors find their way around town.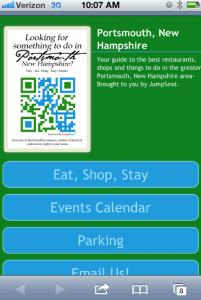 This is a great example of a QR code providing a free service to potential consumers, but also helping local businesses attract customers.  The tourist benefits from being able to find a list of nearby restaurants or other shops, and the nearby restaurant and shop get to trade their product or service for money.  A beautiful symbiotic relationship made possible with QR codes.
The QR code itself stands out, particularly with the two toned color.  It is large enough and with a low density to allow easy scanning. It has a good call to action explaining what you will get by scanning the code.  And the QR code takes you to a mobile optimized landing page.  This is pretty much a perfect use of QR codes.
There are two problems I see, one with mobile experience, and the other with the physical execution of the campaign.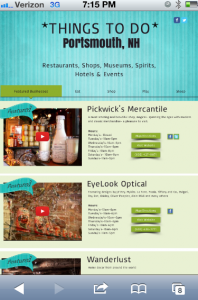 The first is in regards to the mobile landing page.  It is great that the creators knew enough to have a mobile landing page, but the problem arises when you click on one of the landing page buttons.  When you do this you are actually taken to a non-mobile optimized website that lists and describes the places to visit.  This page took forever to load, and was hard to navigate, and thus completely ruining the experience, and causing a loss in my interest.
The second issue I had was simply that there were not enough of these ads around the city to ensure tourists and other visitors would find them.  I was just lucky enough o have parked in front of one.
This example of a QR code campaign though is a great one, and something other towns and cities should do.  It helps the visitor who does not know their way around or where to go, and helps local businesses by giving them an opportunity to market themselves to potential customers.
QR codes have many possible uses, and this is just one, but make sure that if you are going to use this tool for any use, you do so by following our best practices.  But also be sure you have chosen your QR code/mobile site platform wisely to allow for easy use and only a small dent to your bank account.

Did you enjoy this article?
One response to "Portsmouth New Hampshire: A QR Code Case Study"