McDonalds Does QR Codes
Posted on by
Timothy Boyle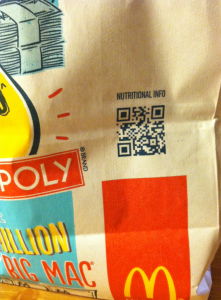 You know a technology has arrived and is nearing critical mass when the biggest players in the game begin adopting the technology and using it correctly.  Once these big players adopt the technology, even if it was not well known prior, the technology usually becomes main stream since its visibility skyrockets.  This is what can happen when a company with the size and visibility of McDonalds starts using a growing technology like QR codes on their product packaging (particularly when they use them well).
While it is true that you can hardly go anywhere anymore without seeing a QR code, many people still have no idea what they are or what their purpose is for.  And it certainly doesn't help things when QR codes are used but used poorly or improperly like the vast majority of codes out there.  This can push people away from ever scanning future codes since they fail to see what the benefit to scanning them is.  So when you have a company with the brand recognition like McDonalds and they use the technology right, then this can help boost QR code use throughout the entire market.
I recently had my obligatory McDonalds once every year meal and saw the QR code on their to-go bags.  I know they have been doing this for a little while, but it was my first time seeing it in person, and I was pleasantly surprised.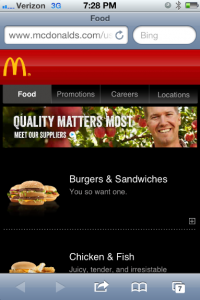 McDonalds is using the QR code as a way mainly to dispense information about the foods their customers are eating, in particular the nutritional value.  On every to-go bag there is a QR code and above the code it simply says "Nutritional Value."  Upon scanning the code you are then taken to a nice, easy to use, pleasant looking mobile landing page with a list of all food items offered on their menu, with all nutritional facts available.  In addition to the nutritional facts they also have a link to their suppliers, allowing consumers to see just where their meat and other ingredients are coming from.
This is a great offering by McDonalds, and certainly helps any diet conscious person out there who wants to know about everything they put into their body.
Besides the nutritional and supplier information they also have a tab to learn about their current promotions, a McDonalds location finder, and a careers tab for anyone interested.
McDonalds uses the technology in a way that is useful, informative and valuable to their customer, all while adhering to generally agreed upon best practices for QR code use.   This sort of QR code use, and in particular well done QR code use, will go a long way to helping make QR codes visible to consumers and teach them about what they are and how to use them.  This in turn should help other businesses lose their fear of the technology and show them how it can be used to provide customers with additional value or even help drive sales.  Just make sure you are using a QR code platform that allows you to do everything all in one place and help you track your campaign to ensure it is working like a well oiled machine.
---