Qfuse Partners with ExactTarget's HubExchange
Posted on by
Jason Summerfield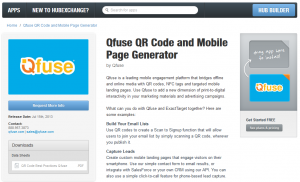 ExactTarget customers can now download and install a Qfuse app in HubExchange directly within their use of the Interactive Marketing Hub.
This app enables users to extend the reach of the ExactTarget platform with Qfuse's mobile engagement platform. ExactTarget customers can now build their email lists with QR codes and NFC tags via a "scan to signup" feature, as well as mobile lead capture with SalesForce integration. The Qfuse platform also allows users to easily develop full-featured mobile landing pages and micro-sites for use with targeted mobile campaigns such, SMS, mobile advertising and social media outreach.
The Quse app is now available at https://hubexchange.exacttarget.com/listing/qfuse/beta.
About ExactTarget
ExactTarget is a leading global provider of cross-channel digital marketing software-as-a-service solutions that empower organizations of all sizes to communicate with their customers through email, mobile, social media, Web and marketing automation. ExactTarget's suite of integrated applications enable marketers to plan, automate, deliver and optimize data-driven digital marketing and real-time communications to drive customer engagement, increase sales and improve return on marketing investment. For more information, visit www.ExactTarget.com.
About HubExchange
Finally there's an app marketplace that's truly made for marketers. Drop-and-go apps from the HubExchange take your marketing further than ever, creating more possibilities, more great ways to connect with your customers. It's a natural extension of your ExactTarget marketing solution that lets you find, add, and start using the best apps right away—and the sky's the limit. Reaching any customer, in any channel, with any message just went to a whole new level. ExactTarget's HubExchange. Built by marketers, for marketers. For more information, visit www.HubExchange.com
---