Local Business, Social Media, and Reputation Building
Posted on by
Timothy Boyle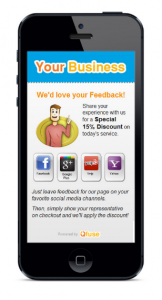 These days, social media exposure on Facebook, as well as positive reviews on sites like Google+ and Yelp, are critical to the online visibility and success of many businesses. This is especially true for small local businesses that rely on word of mouth and positive exposure to reach their local customers, and reinforce and expand their reputation within their communities.
The Challenge
The challenge for many local businesses has traditionally been motivating their customers to leave feedback on the various social media platforms. The remedy is quite simple: make it easy for them.  This is where QR codes and mobile landing pages can be practical tools that make it easy for businesses to engage their customers while they are physically at the place of business, and in turn grow their online reputation.
The Answer
So how do you make it easy for customers to leave social feedback? The first step is to create a mobile landing page where they can conveniently get to social media pages and review sites on their smartphone. The Qfuse mobile site generator makes it easy to create icons and links to pages on Facebook, Google+, Yelp and many other sites.
The Execution
Once you have created the mobile page, the next step is to make it easy for your customers to get to it. That's where QR codes can come in quite handy; just generate a QR code and point it to the mobile landing page so that customers can easily get to it when they are physically at your place of business. It can also be helpful to include a short URL so that customers who may not be familiar with QR codes can also get to the page.
Call-to-Action
Most importantly, you need a call-to-action to engage customers while they are physically on-site at your place of business, and motivate them to leave feedback. If you've already got a supportive customer base established, and/or if you routinely provide exceptional service, many customers may be willing to leave you positive feedback if only you would ask; so make it easy for them and they will.
In other cases, you may need to motivate customers with a special discount or some other incentive. In either case, the important thing is to make it clear and easy for customers, and let them know what you want them to do. If you are a retail store, you can place a display near the cash register, if you're in the service business, you can place a poster in a waiting area, or if you're a restaurant you can place a notice in your menus, or on tables; your staff can also mention the promotion to customers directly.
Ultimately, it's your day-to-day customers that physically walk in your place of business who will also be your strongest allies for building a strong online reputation on social channels and review sites. Using a few simple tools—such as mobile landing pages and QR codes—you can make it easy for your customers to share their real-world experiences online, and help grow your business at the same time.
Wanna Try Our QR Code Platform For Free?