Harpoon, Rugged Maniac and QR code Promotion
Posted on by
Timothy Boyle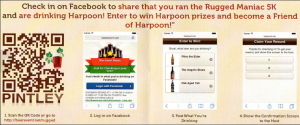 A friend of mine attended the recent Rugged Maniac 5k obstacle race in Southwick, MA and came across a perfect example of how QR codes can be used in event promotion and social engagement.
Harpoon Brewery, in partnership with Rugged Maniac and Pintley, were able to use QR codes, social media, and cross promotion to advertise Harpoon beer and the Rugged Maniac 5k obstacle race.  This was accomplished through a system of incentives, social media, and QR codes.
First the event attendee was encouraged to scan a posted QR code that contained a call to action to scan the code and win a prize.  Once the code was scanned the attendee was prompted to 'check in' what they were drinking.  This took them to a Facebook page where they could select the particular Harpoon beer they were currently drinking and share it on their personal Facebook page.   They then showed the confirmation screen to one of the Harpoon hosts and received their prize right there on the spot.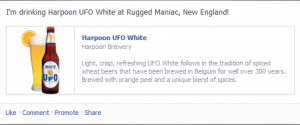 This is a fantastic approach to any sort of promotion generally and beverage promotion specifically, as it creates a great incentive to scan the QR code—a prize that they can get on-site—while also benefiting Harpoon from inexpensive yet high quality advertising through social media.  But in addition to this, it creates engagement between attendees and Harpoon staff, increased brand exposure for Harpoon, the Rugged Maniac, and Pintley.  And the best part about it is that it is easy, different, and fun for the attendees.
It is these sorts of promotions that create an interactive and fun experience for the consumer, while also helping to increase brand awareness and create advertising possibilities through QR codes and social media that more companies and organizations need to start using.  These are inexpensive tools and promotions that give a fantastic ROI and should not be underestimated.
If you or your organization is thinking about using tools like QR codes of NFC in your future promotions be sure to check out the Qfuse platform here for all of your possible needs.

Did you enjoy this article?