GAP in Japan Uses NFC in 'High-Fives' Marketing Campaign
Posted on by
Timothy Boyle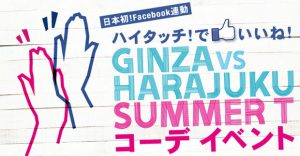 Many parts of the world are years ahead of these United States when it comes to NFC technology and its adoption.  Japan in particular stands out among these countries.  American advertisers and marketers might stand to learn something from the Land of the Rising Sun.  Perhaps this blog will do just that, and be an inspiration for your creativity.
This latest NFC example comes to us from two of GAP's flagship stores in two of Tokyo's districts.  The campaign was in effect a fashion contest between the two store's employees, with the judges being the consumers.
How this marketing campaign worked was that every customer upon entering the store was given a NFC enabled bracelet which was connected to their Facebook account.  The customer was then directed to high-five any store employee whose attire they fully approved of.  When they high-fived the employee the employee would high-five back with their smartphone, touching the NFC tag bracelet to the smartphone, a cheering sound is then triggered, and the vote for that outfit tallied.  At this moment a photo with details of the particular outfit is then sent straight to the person's Facebook timeline for the world to see.
For participating in this fun fashion and marketing campaign the customer is given a free bracelet (not the NFC tag bracelet, but a different one), and a 20% off coupon.
This sort of outside the box NFC campaign is a great way to engage consumers, create a buzz with media and on social networks, increase sales by rewarding coupons, and creating free advertising by linking Facebook accounts, and sending posts to these connected Facebook accounts where all of their friends will be able to see the outfits they had 'high-fived.'
The ROI for a simple, inexpensive marketing campaign like this must be impressive.  Implementing these sorts of creative ways to engage consumers and drive advertising and sales is not very difficult.  Of course it is certainly atypical here in these United States, and so there might be some push-back when these sorts of ideas are brought up.  Overcome the push back and you will surely be happy with the outcome.  Of course using a platform to help ensure your campaign meets its potential is key to this success.
---