Using QR codes to sell Real Estate
Posted on by
Timothy Boyle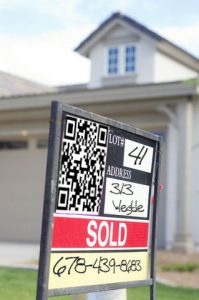 With a majority of American's now owning a smart phone and the ability to access virtually any information in the palm of their hand, it has become very important that every industry adapt to this changing landscape by making relevant information available to their potential customers through these handheld devices.  The Real Estate market is no exception.
With the increase in smart phones QR codes and mobile web sites have become a fantastic tool to ensure easy access to important information by potential customers.  For a real estate agent using these tools might be the difference between selling and not selling a given property, or the speed in which said property goes off the market.  Fortunately, mobile websites and QR codes offer many interactive features that realtors can use to help reach prospective buyers. Below are three ways using QR code-connected mobile websites might help realtors and property managers improve real estate sales.
Placing a QR code on an ad inside a real estate magazine
Often times a property listing inside a real estate magazine is unable to provide enough information for a prospective buyer to determine if they should inquire further.  If a QR code could be placed next to the real estate listing however, the prospective client could scan it and be taken to a much more detailed description of the property.  Perhaps the connected mobile site would provide the asking price, square footage or other specs, but it might also provide more photos or even a video walk-through.  It might list information on the surrounding neighborhood or school systems, or even list what local entertainment is nearby.
With this information at the fingertips of a prospective buyer, a larger quantity as well as more meaningful inquiries would likely occur, and from these inquiries more sales and quicker sales should ensue.
Placing a QR code on a for sale sign
Often times a prospective buyer might be driving around a neighborhood and notice a property for sale that catches their eye, they may make note of it but often times they may forget or never get the chance to learn about the property.  One way this might be remedied is by including a QR code on the current signage or adding new signage with a QR code indicating to prospective buyers that if they scan the code they will be taken to a mobile website that provides greater detail about the property.  Besides including the general information and photos it might also be smart to include the time and date to an open house with a RSVP option, and a link to other similar listings.
Placing a QR code on your business card
Placing a QR code on your business cards provides a prospective client with more information than just your contact info.  Having a QR code on the card also allows the prospective client to access a mobile website which might list your various properties, a schedule of upcoming open houses, a biography about yourself and your experience in the industry or whatever else you deem appropriate.  You might also include on your mobile site that ability for the prospective client to download your contact info right into their phone, ensuring that if they lose your business card they still have a way of finding you and contacting you.
There are many ways using a QR code-connected mobile website might improve the experience for prospective clients and the realtor, and many more exist beyond the samples written above.  As long as the QR code best practices are followed, using these tools should allow you to see an improvement in the effectiveness of your offline and online media and in turn, hopefully, an increase in sales.  If you are interested in getting started using this technology please visit Qfuse.com to learn more.
Wanna Try Our QR Code Platform For Free?