QR Codes Attract Dollars and Sales
Posted on by
Timothy Boyle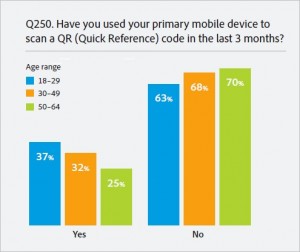 Many people in the marketing and advertising business may not be sold on some of these newer technologies like NFC and QR codes that have sprouted up over the past few years due to the increase in smartphone and other mobile device usage.  There are likely many reasons for this, but one is surely a skepticism that something like a QR code is really going to be productive for their business.  That is, they doubt whether using QR codes for example, will be able to help increase sales, or profits.  Some new data might help eradicate those fears.
An Adobe 2013 Mobile Consumer Survey was recently released and it provided some great insights into the mobile industry and consumer preferences and actions.  For this article I want to highlight only a few of these statistics.
What the Adobe Survey of some 3,075 mobile US users found was that some 35% of mobile users between the ages of 18 and 64 (with a larger percentage of 18-29 year old users) have scanned a QR code in the past three months.   Though this number is low compared to other countries, 35% is still a large number of mobile users.  But the important statistic is that of these QR code users they find that 21% of them have made more than $500 worth of consumer purchases on their mobile phone in the past year.  Compare this to the fact that of the non-QR code users only 11% have reported making the same purchases of $500 or more over the past year.  That seems to imply that people who use QR codes are twice the spenders than the non-QR code users.
What this statistic then appears to indicate is that the type of people who scan QR codes are also the type of people most likely to make a purchase on their mobile device.  So if you have not yet begun using QR codes, or are using QR codes but not using them in a way to drive mobile sales, then you are likely losing out on the potential sales and profits that can come from this target audience.
It is time to get on board the mobile bandwagon and that includes adopting the modern marketing tools like QR codes and NFC that go along with these new mobile devices.  Just make sure if you are going to begin using these technologies you choose a platform that ensures seamless management and ease of use.
*Thanks to Adobe for their survey data
Wanna Try Our QR Code Platform For Free?