QR Code Case Study: Danbury Fair Mall
Posted on by
Timothy Boyle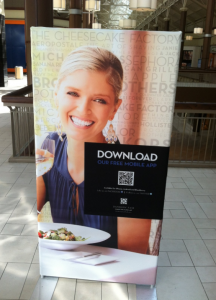 I was on my way to a meeting in Danbury Connecticut when an intense headache hit me, requiring me to search out the closest pharmacy.  After a quick search on my phone I found a CVS close by at the Danbury Mall.  Upon entering the mall I was overwhelmed by its size and realized that I needed a map to point me in the right direction.  Of course trying to find a map in such a huge mall might take as long as trying to find the store itself.
As I turned a corner searching for my map, I passed a sign with an agreeable woman on it and did a double take upon seeing a QR code which I figured I would check out to see if it might be useful for a blog post.  Little did I know it would be incredibly useful for my own immediate use.
The advertisement was for the Mall itself, promoting mall goers to download the mall's app, and it made this clear with its good call to action.  I thought to myself that downloading this app might bring me to a map of the mall and help me find the way to my destination.
I scanned the code and it took me directly to the App info page, and guess what was the first thing listed in regards to the app function?  That's right, a 'Mall Directory'.  Halleluiah!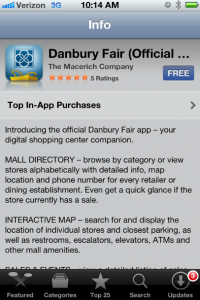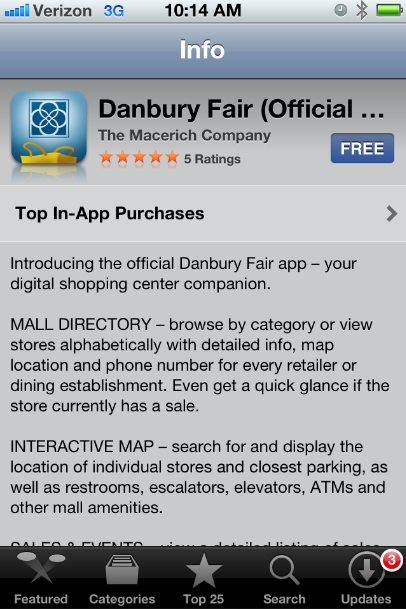 I quickly downloaded the app and found my CVS, and just as I feared it was in the opposite side of the mall in the darkest corner.  I would have taken an hour walking that mall to find it.  This app saved my day and helped me show up on time to my meeting.  Not to mention it proved how useful QR codes can actually be.
Whoever created this ad and QR code campaign really did a great job.  The advertisement brings you in, and makes the QR code and downloading of the app the only focus of the advertisement.  The call to action being the only verbiage ensures a higher scan rate.
Upon scanning the code it does exactly what you would expect and takes you to the App info screen where you can see what the app does and choose to download it.
It shouldn't go unnoticed that the app is actually very well done and provides only those things users would find important, including: a map of the mall with store information, locations of bathrooms, ATM's, escalators and elevators, a list of sales and events currently going on in the mall, a parking spot finder, a custom shopping list and other mall information.
This mall was a great, though brief, experience for me, and really proved that they know what they are doing.  Providing added benefits such as easily downloadable and useful apps through a QR code ad is a great service to their customers, and other malls, particularly large ones, should certainly follow suit.

Did you enjoy this article?
One response to "QR Code Case Study: Danbury Fair Mall"