Qfuse Scores High Marks From Marketing and Ecommerce Site
Posted on by
Timothy Boyle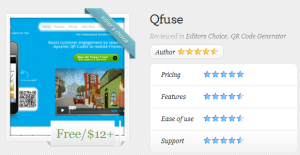 Mark's Marketing Toolbox is a web site that reviews and rates marketing and ecommerce products and tools.  The author, Mark, handpicks all products and tools to make sure only the best products are featured, and to make sure there are no shenanigans.
Mark includes a five star rating system with his reviews to make the potential consumer's choice easier in deciding what product or tool is best for them.  The topics he rates include, Pricing , Features, Ease of Use, and Support.  The "Pricing" category is pretty self explanatory, if it is inexpensive it gets a high rating.  The "Features" category is based on what the platform offers its customers, for example, does it simply offer a QR code generator or does it offer a QR code generator plus a mobile web site creation platform and other relevant features.  The "Ease of Use" factor is based off whether a technically challenged individual could easily use the product or not.  Lastly, the "support" rating is based on whether the consumer support staff is accessible through online, phone, and whether there are tutorials or webinars available to answer most questions.  Taken together the author then offers an overall score.
So what ratings were given to Qfuse?  Mark's Marketing Toolbox gave Qfuse his 'Editor's Choice' in the QR Code Generator Category, and gave an overall scores of 4.5/5 stars.  Pricing received 5/5, Features 4.5/5, Ease of Use 4.5/5, and Support 4.5/5.  Qfuse also appears in his "Top Rated Products" category.
To see his full review and rating of Qfuse, click here.
---