Out-of-home Marketing and Mobile Media
Posted on by
Timothy Boyle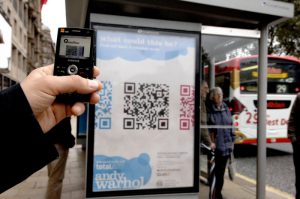 The marketing and advertising market is changing.  As more and more people transition to mobile for most of their media (roughly 50% of Americans now own a smartphone), traditional media, you would suspect, would be on its way out the door.  This however is not the case.
What marketers and advertisers are doing, if they are ahead of the curve, is finding ways to connect their mobile and traditional media.  One of the most widely used ways of connecting such media is using QR codes.  The QR codes allow marketers to connect the consumer to their brand.  From here it becomes vitally important that the mobile landing page the consumer is taken to contains interesting and engaging content.   Assuming this is the case, marketers should ensure easy access from this information to all social media, as consumers are far more likely to share the interesting content on their various social networks.  This in turn helps grow the brand and ensures a larger audience.
Other ways marketers are connecting their mobile media to their traditional media is Bluetooth.  This form of media allows marketers to push ads to the consumer when they enter certain physical areas, as long as the consumer has their Bluetooth set to "discoverable."  This allows the marketer to target the consumer when they are primed for visiting a store and pass along discounts, coupons or other information to draw the interest of a consumer.
Another less used technology to connect offline and online media is the NFC chip.  A number of phones on the market currently have the technology, though it still remains a minority.  This NFC technology allows consumers to simply touch their phone to an ad or product and be directed to what is hopefully engaging mobile content.  With the ultimate goal being to get the consumer to act in some desirable way, whether it is making a purchase online, in a store, or simply sharing the brand with friends on social media.
Consumers currently spend a large chunk of their time on their mobile devices and it only continues to increase.  This growth makes it incredibly important for marketers to focus on out-of-home advertising and providing engaging content that connects to their traditional media.  Only by doing this can you have a truly successful marketing campaign in today's mobile world.
Wanna Try Our QR Code Platform For Free?