Korean Company's Exciting Use of QR Codes to Drive Lunchtime Sales
Posted on by
Timothy Boyle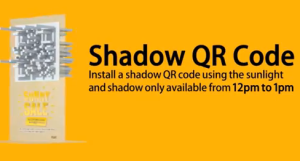 Companies, particularly large ones, often times lack the ability to think outside the box, be creative and adapt to changing conditions, technologies and problems that may arise.  One large company in Korea, Emart, with 141 stores across the country has shown that they will not let themselves be placed inside any box.  Instead they found a creative way to solve a large problem across their many stores.
Emart was experiencing a large decrease in sales during lunch time hours and was looking for a way to increase sales to a level on par with the rest of the day.  So what Emart did was think outside of the box.  They needed to find a way to drive sales but only at lunch time hours.  Whatever the solution they came up with also needed to have the additional benefit of generating interest and engaging consumers.  What they came up with was an ingenious and creative solution that certainly fit the bill for what they were looking to do.
What Emart did was decide to use a QR Code posted outside their store.  This was not just any old QR Code though; instead the code was a 3D QR code that could only be scanned when the sun was hitting the Code at the proper angle, that proper angle being between 12 PM and 1PM.
This incredibly creative use of a QR Code obviously had the effect of increasing interest and causing a buzz, and in fact Emart found their way into many media outlets over the months following their campaign.
Upon scanning the QR Code during the right hours, the potential customer would be sent to a mobile landing page where special daily offers would appear, including coupons for up to $12.  The customer could then shop right on their smart phone and make purchases from the Emart App.  The purchases made would then be shipped directly to the customer's home.
The end results were that customers received greater convenience, and Emart's lunchtime sales increased by 25% with customers using over 12,000 QR Code prompted coupons, and an increase in membership of 58% from the prior month.
This is just one more example of how a company can use QR codes to enhance the customers experience and drive sales at the same time.  The important thing to realize is just how much better things can be by thinking outside the box and not getting stuck in the tyranny of the status quo.

Did you enjoy this article?
One response to "Korean Company's Exciting Use of QR Codes to Drive Lunchtime Sales"