A Winery That Understands Mobile Marketing and QR Codes
Posted on by
Timothy Boyle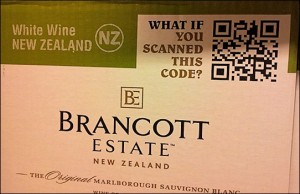 Brancott Estate, a winery from New Zealand, is one of the latest examples of good QR code use and attempting to think outside the box to engage with consumers and provide additional value.
What Brancott Estate did was simply place an easily scanable QR Code on the back of their wine bottles.  This QR code allows the customer to see various facts about their 14 different wines.  For example, upon scanning the code you can go to a page where you can find the best meal matches with your particular Brancott Estate wine you are about to open.  In addition, you can read about the vineyard itself, how best to drink the wine, and more in depth explanations of the flavors and aromas for you wine aficionados out there.
Brancott Estate is light years ahead of the curve when it comes to their mobile marketing having created a mobile app in addition to their QR code use.  And though their QR code use isn't the most creative use I have ever seen, it is incredibly functional, interesting, and certainly provides additional value to the consumer.  Other wine and food and beverage companies would be smart to replicate Brancott Estate if they wish to move into the 21st century of marketing and advertising.
If you are in marketing and haven't begun to use mobile marketing or QR codes to connect your offline and online media, be sure to educate yourself on the subject and search out companies that can help you orchestrate a campaign like the one you see above.
Wanna Try Our QR Code Platform For Free?