Here is How You Use QR Codes: First Bank and Free e-Books
Posted on by
Timothy Boyle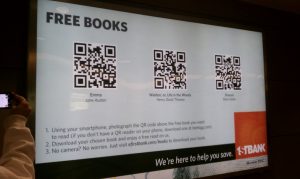 In my experience I find that most uses of QR codes aren't very effective uses of the technology, in fact many are flat out bad.  A plurality are just 'ok', and only a few are great.  This is a blog about a great one.
This particular use of QR codes was not one I found myself, so I am not sure when it occurred, or if the campaign is still going on, but this QR code campaign is what people should use as an example of how to use the technology.  So props to First Bank.
What First Bank did was run an advertisement in an airport with a tag line saying "We're here to help you save."  The focus of the ad though was three large QR codes.  Each QR code could then be scanned by your phone or tablet to download a free book to your device, with your choice of classics: "Emma" by Jane Austen, "Walden; or, Life in the Woods" by Thoreau, or "Dracula" by Bram Stoker.
So why is this a great advertisement?  Let's count the ways:
1)       It is giving away something free to anyone who wants it, this alone is a great way to entice people to scan the code and interact with your brand.
2)      It provides a good at the ideal time when someone might be in the market for what they are offering.  In this case people waiting for their plane are likely to need reading material, and a free book is the perfect thing to offer in such a location.
3)      The ad places the focus on the QR code and gives a perfect easily understood call to action "FREE BOOKS", and clearly explains how to take advantage of the codes and what you get for whichever code you decide to scan.
4)      They fit the codes purpose, that of giving away free e-books, into their tag line "We're here to help you save."  A very creative idea.
5)      Lastly, having it placed in the airport where there is a lot of foot traffic, and creating an advertisement that requires interaction easily sparks interest by other passersby's when they see someone stopping to scan the codes.  Humans are generally followers, so this type of ad in this type of setting can easily help spread interest in the ad and drive an even greater number of scans.
The only problem I see in this ad is the lack of Mark Twain books and essays.  Other than that this it is a perfect use of QR codes and a great example of how to use the technology in similar ways for your own particular business or brand.
For more information on QR code best practices go HERE, and to learn more about the easy to use QR code/mobile website Platform click HERE.
---