American Express, QR Codes, Physical Advertisements, and Shopping Local
Posted on by
Timothy Boyle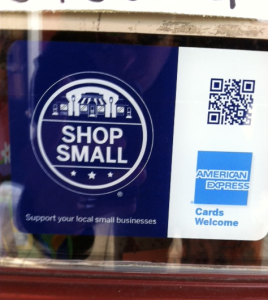 I was walking around Kennebunkport earlier this week and as I was about to enter a local kids boutique I noticed a sticker on their door from American Express.  The sticker said "Shop Small.  Support your local small businesses."  But this sticker went one step further than most similar type stickers you might find on shop windows or bumper stickers.  This window sticker contained a QR code which made it far more useful.
Whether you agree with the whole "shop local," "shop small" movement or not, one must admit that if you do indeed support such a thing it would certainly help to know what the relevant shops were and where they could be found.  This is where a QR is able to come into play and help promote shopping local.
In this particular case, when you scanned the QR code you were taken to a mobile optimized landing page with a header stating "Shop small and make a difference in your neighborhood."  From here you can click on one of a various number of buttons such as "dining," "shopping", "entertainment" etc.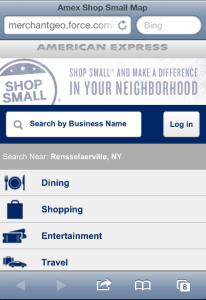 From there the American express mobile site brings up the various local businesses in the area that fall under those categories.  For each business their contact info including phone number and address are listed.
This is a great example of how a simple QR code can greatly enhance a physical advertisement.  A sticker simply saying "shop small" is a nice sentiment and all but what good does it really do?  You add a QR code and all of a sudden it is more than just sentiment, it becomes useful.   Sure you could print out a list of all the local businesses for each category and stick them up all over a window, but that just isn't practical.  A QR code fits the bill perfectly.
This is relevant for any physical advertisement that could benefit from offering more information than just a simple slogan.
For example if you have a physical advertisement that is trying to sell something, or convince someone to act in a certain way, say have someone download your new mobile application, a QR code is a perfect fit.  It allows the potential consumer to access more information or be prompted at the moment of peak interest to act in a particular way—such as scanning the code to download said app.
Most physical adverts could benefit from a QR code.  Just make sure it is actually serving a purpose and provides the consumer with something they actually would want and/or benefit from.
Also, if you are going to have a sticker similar to American Express, it might be beneficially that the sticker associate with the proper local town, being in Kennebunkport I probably don't really care what the local stores are in Rensselaerville, NY.  A lesson in double checking your QR code landing pages.
Wanna Try Our QR Code Platform For Free?