A Hotel Chain's Creative QR Code Use
Posted on by
Timothy Boyle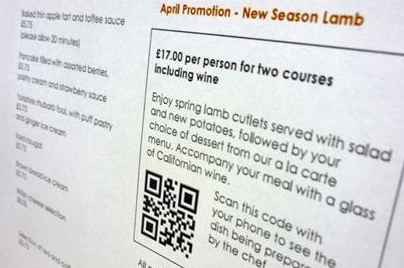 Radisson Edwardian is a British hotel chain that has used QR codes in a creative way so as to add additional value added to their customer's experiences and hotel stay.
One way Radisson Edwardian helps to provide added value, additional information and an improved experience is by including QR codes on their restaurant menus next to each menu item.  Upon scanning the QR code the customer is then taking to a video of the particular meal being prepared in order to help them make the best decision about what to order.  In the first month or so, these QR codes were scanned thousands of times.
Radison Edwardian hangs a lot of original art in their hotels.  So one other way they have used QR codes to provide additional value and information is to place a QR code next to the painting with information about the particular work of art, the artist and where you might be able to find similar work like it.  This helps the artist, provides information to art enthusiasts and is just one additional added value to the customer through the use of QR codes.
Lastly, Radison Edwardian understood that importance of a mobile web site that the QR codes could be connected to as well as for the millions of people that search for hotels on their smartphones but who would likely get frustrated trying to book a stay on a non-mobile optimized website.  Without the mobile site the QR codes are of little value and many lost bookings would have occurred from mobile users searching online.
Radison Edwardian has been thinking outside the box for a long time now, getting out in front of the game, doing mobile right and doing it early, using QR codes correctly and finding ways to add value to the stay of their guests, all while increasing their brand loyalty.  There is no reason why any business today can't be doing the same (price most certainly is not a barrier).
Wanna Try Our QR Code Platform For Free?