20 Ways You Can Use QR Codes
Posted on by
Timothy Boyle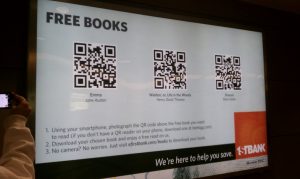 People may wonder why they should use QR codes, or perhaps don't see a valuable way that QR codes could help their particular business.  The truth is almost every business can benefit from using a QR code (just make sure you follow our best practices.  …Seriously, don't bother using QR codes unless you use them right).  Below are 20 great ways that you can use this fantastic tool.
Place them on a physical advertisement to download free (or perhaps purchase) books. (Example above).
Increase sales by letting customers access an online shopping cart for you advertised product or addition items related to said product.
Send customers to product reviews.
Save paper and money by placing instruction manuals online, accessible by scanning a QR code.
Videos to demonstrate how to use a particular product.
Provide free gifts to customers.
Entice consumers to download your mobile application.
Prompt consumers to download music.
Place on a physical advertisement to allow the purchase of said product right on their phone.
Provide additional information about specific works of art or historical artifacts at a museum.
Place in books to send readers to relevant and interesting content.
Put in newspapers to take readers to full interviews of which parts are quoted in articles.
Place in magazines to provide additional information on an issue in video format.
Use to collect consumer information for advertising purposes.
Put on food packaging to tell the consumer where the ingredients originate from.
Put on a table top display in your restaurant to prompt customers to "check-in" on social media.
Place on menus to allow online ordering.
Place on signs at entrances of malls to update customers about sales going on in the mall.
Place on physical ads to connect target audience with interactive entertainment and provide brand interaction.
Offer discount coupon or entry into a drawing in exchange for an email address.
These are only a handful of the many possibilities that QR codes open up to you and your business.  Think outside the box, or just take an example from above.  Any of these will help drive sales, increase efficiency, provide brand identification, or at least provide additional value to customers.  QR codes make sense, just make sure you are using a platform that'll let you use them right.

Did you enjoy this article?