QR Codes Simplify Shopping with Virtual Storefronts
Posted on by
Timothy Boyle
Companies around the world are always looking for that new technology or new way of doing things to improve customer experience and drive sales.  One company in South Korea has done this using QR codes with great results.
Using QR Codes to Drive Retail Sales
Tesco, now called Homeplus, is a grocery chain in South Korea and they were looking for a way to increase sales without the overhead costs of new stores and in turn find a way to improve the shopping experience of their customers.  Their solution: QR codes.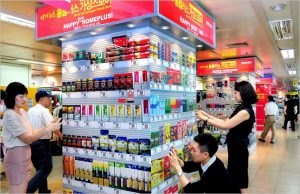 What Homeplus decided to do was create a virtual shopping experience for customers.  In many subway terminals they plastered photos of shelves with various products on them and under each item a corresponding QR code.  This allowed South Koreans to do all of their food shopping while waiting for the train!  They simply walked the fake shelves scanning the codes of the various products they wanted and placed them in their virtual shopping carts.  When they were ready to check out they paid on their phone and by the time they get home from work their shopping bags would be waiting for them at their doorstep.
Mobile Marketing Creativity Leads to Massive Growth in Sales
This ingenious idea by Homeplus helped improve the busy lives of South Koreans while also achieving their goal of driving sales without the large overhead of new stores.  In fact, the number of registered users increased by 76% and their online sales increased by 130% in just over a month, jumping them into first place for the online market.
This creative use of QR codes is just one of many examples of how this technology can be used to improve experience for customers, drive sales and in the end make everyone better off.

Did you enjoy this article?