QR Codes in Video Games
Posted on by
Timothy Boyle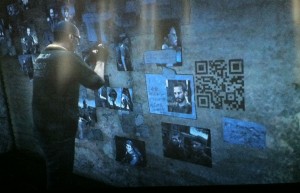 Creative uses of QR codes are everywhere these days as companies try to find new ways to enhance their brand or engage customers on a new level.  One of the coolest examples I have found was from the video game 'Homefront'.
Adding New Layers of Engagement in Games
What the Homefront makers did was hide QR codes throughout the game, and purposefully did not advertise this fact.  Instead they let players stumble upon them, and due to the curious nature of people players scanned them to see what it was.  What the player found was additional game information, which helped develop the game story even more and engage the player in a way never seen before.
For example a player may have scanned the hidden QR code they found and it would have directed them to a propaganda video by one of the factions in the game.  This extends the video game outside of the platform, ads a bit of extra fun to the game, and makes it all more interesting.
Impressive Statistics on QR Code Scans
In fact just two days after the release of Homefront, they had over 30,000 QR code scans despite the lack of advertising for the codes.  Some of these QR codes also provided free downloadable content for the player, creating additional value to the experience and ensuring players came back for more.
This use of QR codes by the makers of Homefront helped improve the game experience of the players, increased the brand, and engaged players on a level not seen before.  These sort of uses for QR codes are just the beginning.  Similar uses could do more than just add interesting content or provide free material, they could also find ways to offer deals or products within the game, and find ways to drive sales and increase profitability, all while improving the experiences of the gamer.
QR codes are a fantastic way to drive interest, engage consumers and improve a product or service, Homefront is just one of many such uses that have done this with great success.  You should expect to see even more creative uses in the future.
---