QR Codes at the Car Dealership
Posted on by
Chad Dorman
This blog is the second of three in a series that focuses on how QR codes are becoming more immersed in our lives and in our actions.  After the year of the pandemic, we'll continue to see QR code use surge in the past few years.  Buying a new car? You may lean more on a QR code – and less on a salesperson – at the start of your shopping experience.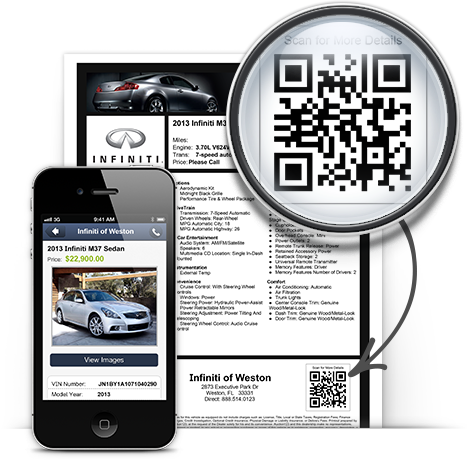 Circling back to our previous article, QR codes can be used by car dealerships to make the overall buying experience for the consumer much less stressful. Those long sheets of paper containing the vehicles' information displayed on a side window is difficult to understand and is almost impossible to compare with other vehicles; the consumer is left struggling to remember which information applies to which vehicle. QR codes can easily rectify this issue. By simply placing QR codes on the vehicles, customers and sales representatives alike can scan the code to quickly get all of the relevant information about the car, allowing for easy comparison shopping. Furthermore, the author suggests that dynamic QR codes can be implemented by car dealerships to allow for regular updates regarding the vehicle information.
Businesses are certainly already taking advantage of the applicability of QR codes in the automotive inventory merchandising sector. One company, DealerCarSearch, enables car dealerships to easily display an informational QR code on any vehicle's window as a sticker. According to their website, "The QR Code links shoppers directly to the Vehicle Detail Page on your website. This hi-tech feature converts after hours lot walkers and window shoppers into solid leads for your dealership when your Dealership is closed." This concept can be taken even further, with the possibility of dealerships advertising particular vehicles in newspapers, magazines, and even social media all through a QR code.
---
QR Codes – https://www.dealercarsearch.com/qr-codes-for-car-dealers.aspx
Choudhary, Sneh Ratna. "Why 2021 Is the Year of QR Codes." Beaconstac RSS, 24 Dec. 2020, blog.beaconstac.com/2019/02/why-2019-is-the-year-of-qr-codes/.

Did you enjoy this article?