QR Code Case Study: Restaurant Menu's
Posted on by
Timothy Boyle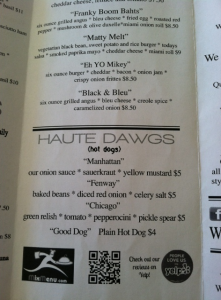 I went to order from one of my new local favorite restaurants called The Kitchen the other day and pulled out their menu I had in my dresser drawer.  After selecting my dinner of choice—their incredible Cuban sandwich—I went to place the menu on the table and noticed that they had a QR code on the back of their menu.
The QR code had no call to action and so I had no idea what to expect (this should have been my first sign of a problem), my mind starting racing about what interesting use this QR code may provide for me.
I thought to myself, perhaps scanning the code would give me with a coupon for some percent off my meal and incentivize me to order pick-up or delivery from them more often.
Or maybe they had easy mobile ordering so I could place my Cuban sandwich order without the hassle of calling and speaking to another human being and taking up their time when they could be preparing my food quicker instead.
Or perhaps scanning the code would take me to reviews of all their dishes and ratings to see which favorites I should be trying as opposed to sticking with my go-to Cuban sandwich.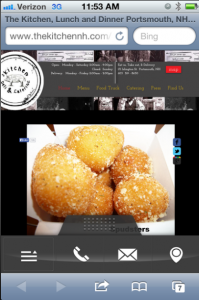 So I scanned the code, expectations pretty clearly high, but my enthusiasm and that excited twinkle in my eye vanished instantly.  What was their QR code directing me to?  Their damn desktop website—though a pretty nice desktop website I will say.  The exception being that they did have click to call, click to email and map buttons hovering on the bottom of the page for mobile users.
Can someone please tell me why you would use a QR code on your marketing and advertising media and simply link back to your website?!  I swear 95 out of every 100 QR codes I scan take me to an irrelevant, hard to use, useless desktop website.  Why?  When will people learn that this is the least creative and worst way to use QR codes?  Give me something relevant!  Give me something enticing!  Give me something I actually want!
If you own a restaurant QR codes can be incredibly beneficial.  Obviously you have the possibilities I mentioned above that could be put on your take-out menus, but you have so many other uses.  To name a few, you could put them on your in-house menu's and incentivize your customers to scan them and check-in on social media sites to provide you with cheap quality advertising, or use them as a way to speed up ordering, or provide information about the ingredients being used in the meals.  There are lots of great uses, but linking to your website, no matter how quality your desktop website is, is not one of these.
QR codes can do a lot for you, but only if you use them correctly.  Make them work for you and/or your customer.  Are they providing additional value?  Are they driving sales?  Are they creating interest?  Are the engaging?  If not, don't use them!…Or just change them so that they are.
Luckily for The Kitchen their Cuban sandwich was amazing and I won't hold their QR code use against them…much.
Wanna Try Our QR Code Platform For Free?