Bring Your Holiday Cards and Invitations to Life with QR Codes and Mobile Pages
Posted on by
Timothy Boyle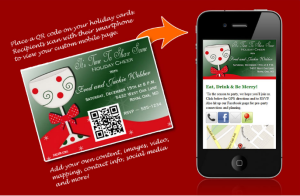 The Holiday season is fast approaching, and that means people are starting to prepare for their parties and get-togethers, as well as sending out invitations, Christmas cards and family updates.  For those looking to add an element of interactivity to these holiday communications, the use of a simple QR code will go a long way.
Here are but a few of the ways that you can use QR codes to bring your holiday cards to life this season:
Party Invitations
Let's say you are sending out invitations for your Holiday party.  Traditionally each invitee would have to call you personally and let you know if they were planning on attending or not.  They might also call for directions or some other logistical concern.  But much of this is unnecessary if you give people the right tools.
By placing a QR code on your invitations you can easily send invitees to a landing page where they can RSVP right there through a simple form.  Directions and mapping can be accessed at a touch via Google Maps and GPS, and click-to-call and click-to-email features make it easy for folks to connect with the party planner when necessary. You can also link to your event's Facebook page for the party so invitees can connect and make plans in advance.
Offering these interactive tools can make things more efficient and enjoyable for your guests.
What to share with your Holiday Invitation's QR Code:
Instant RSVP – let people fill out a simple contact form to accept/decline the invite
Mapping – make it easy for people to get turn-by-turn directions via GPS
Contacts – make it easy for folks to call, email or message you at a touch
Get Social – let people share your invitation on social media channels, or join the conversation on your Facebook event page
Christmas Cards, New Year's Greetings, and Family Updates
Let's say you aren't planning for a party, but instead are looking to send out a Christmas card, family update, or new year's greeting.  Traditionally you might send out a single photo with a short Holiday greeting.  But what if on this card you placed a QR code as well?
This code could let you customize your card with individual video greetings for each recipient, or simply have a single video greeting for all cards, making it much more personal and fun.  The QR code might also direct your friends and family to other family photos, or stories of the happenings of the past year.  This is sure to make your Christmas card stand out, and add a little extra magic for your recipients.
What to share with your Holiday Card's QR Code:

Video Greeting – personalize your card with a special message
Photos – share family memories,
Updates – share additional text content that won't fit on your card
Whether your holiday cards are for greetings or invitations, business or pleasure, using QR codes makes it possible to interact with your recipients in new ways by combining old traditions with new technologies.
Want to add a QR Code to your holiday cards?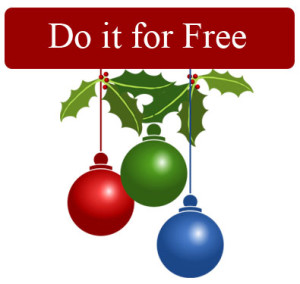 ---