ABC's eBev 2013: Digital, Mobile, and Social Media Marketing
Posted on by
Timothy Boyle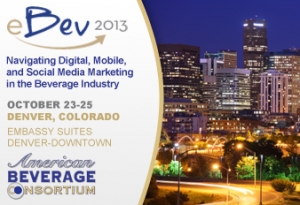 Qfuse is a proud sponsor of the American Beverage Consortium's (ABC) upcoming event eBev 2013. The event will have a heavy focus on the role digital media, mobile, and social media marketing is currently having –and can have–on the growth of the beverage industry.
This is a cutting edge event for the beverage industry and is meant to "take on the challenges of digital, mobile, and social media marketing from the beverage perspective."  The role of digital, mobile and social media marketing in the lives of consumers and companies alike is growing significantly and such an event should help to ensure members of the industry are keeping up with the newest technological changes and are able to compare their campaigns with their peers.
One of the key goals of the conference, however, is not just to touch on the creative element of said campaigns but instead, as Alex Brooks, Managing Partner of ABC puts it "to accurately capture data and generate meaningful consumer insights that allow us to simultaneously justify spending while improving efficiency and effectiveness."
The event will feature some of the best specialists in digital marketing including Lucas Herscovici, VP Digital marketing North America for Anheuser-Busch InBev; John D. Ross Jr., Senior Digital Marketing Manager for PepsiCo; and Rob Wilk VP of Sales with Foursquare, among many other top minds in the industry.
The topics covered will range from Youtube and video content marketing integration, to competitor peer research, all the way to end to end content marketing plans.  There is really little chance an attendee can leave this even without becoming an expert in the field.
It is events like these that will help ensure the beverage industry stays ahead of the ever-changing marketing trends with effective tools and strategies for engaging target audiences in new ways.
---