Use QR Codes to Advertise Events and Contests
Posted on by
Timothy Boyle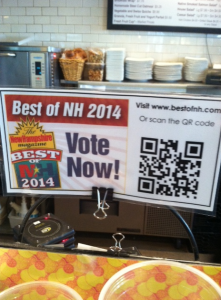 I was at one of my favorite Portsmouth, NH coffee shops called Popovers the other day and sitting next to the register was an advertisement to vote for the "Best of NH 2014".  Accompanying this advertisement was a QR code of equal size urging people to scan the code and vote for the best of various categories.  This, I thought, was a great example of how QR codes can be used to promote similar contests and events.
Not only does this sort of advertising promote the actual "Best of NH" contest, but by this particular coffee shop having it displayed on their checkout counter right next to the register it also accomplishes something else for said coffee shop.  If a person is a customer at this business they are likely a supporter of said business since they have chosen your coffee shop in this case over the many other options.  So if you have the "Best of NH" advertisement and QR code (or any similar type of contest), they are most likely going to scan the code and vote for you.  Helping to promote your particular business and the overall event or contest.
If your business is putting on a contest that is just store wide, or if your organization is trying to promote a contest or event over a given region or through numerous businesses, having an advertisement that allows interaction and immediate entry at the time of peak interest by consumers, then QR codes can dramatically help the cause.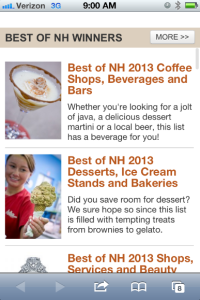 An advertisement with the QR code will help go a long way to the success of these sorts of things, but it is also important that you entice the target audience to actually scan the code.  This might be done by offering some sort of discount, or a raffle, or some other benefit, and then using a call-to-action to make sure this is known to all onlookers.  Do this and participation is likely to dramatically increase.
In this particular case of the Popovers coffee shop they at least got one extra vote that they wouldn't have received had they not advertised the contest at their register.  Just by having it there they received my vote that otherwise would never have been cast, or would have gone to some other coffee shop.  And in this case, I suspect, every vote will matter in who wins the award, and the bragging rights that will go along with it (and maybe even a plaque! Who knows).
QR codes can serve many purposes, but using them to push in-store contests or area events is a perfect idea, so long as you are using them correctly and offering people something they would actually want or benefit from.   And of course be sure to use a platform that will make using your QR codes easy, effective, and in compliance with best practices.
---