The Portsmouth Brewery and QR Code Use
Posted on by
Timothy Boyle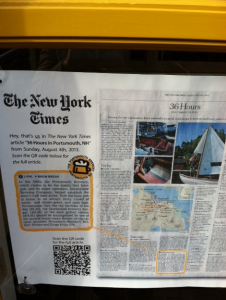 I was walking down the street of my hometown—Portsmouth, New Hampshire—and passed the entrance to a local favorite brew pub called the Portsmouth Brewery, when I noticed a big poster on their window with a headline from The New York Times.  Obviously this grabbed my attention since Portsmouth is a small town and doesn't typically get much publicity.  I took a quick look and realized it was a cut out of a page from an issue of the paper that highlighted the town of Portsmouth and the Portsmouth Brewery specifically.  The blurb highlighted a few facts about the town, how it is the third oldest city in America, and how the Portsmouth brewery is the state's first brew pub.  But most importantly I noticed a QR code.
The print out of this blurb was nice, but there wasn't enough room for the whole article.  So what the Portsmouth Brewery did was place a QR code on the poster and let locals and tourists read the rest of the New York Times article.  The article was the author's experiences of spending a weekend in Portsmouth and highlighted the many things one might do, including visiting the Portsmouth Brewery.  But the QR code use was a perfect example of how you might provide extra value or interesting content to your customers or potential customers.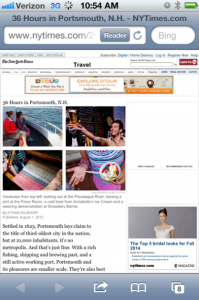 The NYT headline on the window poster is sure to attract attention of passerby's on the street, as it did for myself.  And the content on the poster is interesting enough, but for someone interested in learning more about the town and what it has to offer—a tourist perhaps?—having this QR code there allows them to access this extra information provided by a source in the NYT many people would trust.
This might be a small and rather un-creative way to use a QR code, but it points out just one of the many ways someone might use a QR code even to simply provide information to the masses.  QR codes don't always have to be used in some incredibly creative or interesting fashion (though this is often the best way to use them), QR codes simply need to give consumers what they might be looking for at that moment in time, and a QR code on the streets of a small town, with lots of tourists, pointing out the many local attractions is a perfect example of this.
---