Restaurants Utilizing QR Codes in the Pandemic
Posted on by
Chad Dorman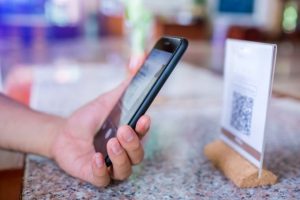 The global pandemic has forced us all to take safety precautions and we know that masks, gloves, and social distancing are ways to minimize the spread of COVID-19 and to maximize the safety of ourselves and those around us. As businesses continue with cautious re-openings amid the COVID-19 pandemic, they are determining best practices for how to do so in a way that allows them to get back to some level of normalcy while giving their employees and customers peace of mind.
The silver lining in all of this is that there are several tactics which have now become staples of this current daily life that will presumably stay with us even beyond the pandemic.
One of the additions to life as we know it – which is really in its own revitalization of sorts – is QR codes at restaurants and eateries for contactless paying and ordering.
Contactless ordering and payment have become not only a 'nice to have' in restaurants but have taken hold as a must-have during these times. Independent establishments, chains, and even small venues have upgraded their payment systems to allow QR code functionality to bring food service to customers with limited physical exchange to employees and staff.
While going out to eat used bring about putting the phones down to enjoy each other's company, now the phone is an integral component to a safer dining experience – and that may never change. Using a photo, enabling a QR code reader, and paying electronically are eliminating shared menus, shared bills, and – yes – shared germs.
So how does this all work?
When you arrive at the restaurant, you'll certainly notice face masks and plastic shields protecting the host stand and other diners. At your table you will notice a (typically) laminated sheet or stand that has instructions directing you to use the QR code positioned front and center on it.  When that QR code is simply scanned using your smartphone's camera, a link will open to the restaurant's menu pages.
QR codes have had widespread use for many years now but are seeing a resurgence especially as the CDC has recommended that restaurants, eateries, and bars use digital menus in limited the spread of the coronavirus. Many restaurants in larger cities had already been looking into touchless menu technology before the pandemic struck – and many patrons love the simplicity and ease of access – so the pandemic ushered the change along much quicker.
Even beyond the benefits of QR code menus for health and safety, there are additional advantages that come from applying the technology in restaurants.
Digital menus that utilize QR codes offer more flexibility and organization than a paper menu. The staff can quickly and easily update the digital menu to adjust items (such as add a dish, or remove one that's sold out) and with some programs a restaurant could review and analyze data (such as what dish is most popular).
QR codes menus can have visuals, graphics, and video clips – which may be more appealing than the static photos on a paper menu. In a world where we love our Instagram and Facebook videos and gifs, applying that same thought to creative on a digital menu can be a huge hit. QR codes can also enable promotions, specials, and coupons right from the system.
The environmental impact is great as well as restauranteurs who are going to digital menus are not only reducing costs for themselves, but they are reducing waste!
With all of the positives in this silver lining, restaurant owners, industry experts, and marketers firmly believe that digital menus – and the QR codes that enable them – are here to stay. Smartphones are already part of our everyday routines, and now they will be fully engrained in our dining experiences as well.
We all want to be safe and we all want to get back to some level of normal.  That said, long after a vaccine comes along the QR codes and digital menus will remain.  They make contactless ordering and payment that much safer, quicker, and easier.  The future of dining is here to stay.
---