QR Codes Used to Support Veterans
Posted on by
Timothy Boyle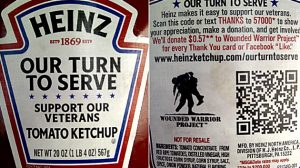 This past Veterans Day you may have noticed a change to Heinz Ketchup's label.  Besides the new red, white and blue colors, you would have noticed a QR code with the headline "Our Turn to Serve."  This "Our Turn to Serve" campaign was more than just a typical marketing campaign, it also helped raise awareness and money for the Wounded Warrior Project, a non-profit organization whose mission it is to honor and empower wounded veterans.
This QR code and description of the campaign could be found on all Heinz bottles at restaurants across the country. Using the QR code allowed Heinz to connect with potential supporters at the very moment they were using their product.  This ensured huge participation.
Upon scanning the QR code on the back of the bottle you would be directed to a mobile optimized landing page.  From here you had the choice of sending a personalized "Thank You" card to a wounded veteran, and/or you could choose to "Like" Heinz's Facebook page.  If you chose to "Like" their Facebook page, Heinz would then donate $.57 to The WWP.
The results of the campaign were fantastic, both for Heinz Ketchup and the Wounded Warrior Project.  The "Our Turn to Serve" campaign netted Heinz over 60 million media impressions, thousands of Facebook "Likes" and comments, all which in turn helped increase the Heinz brand. The campaign also helped wounded veterans as it ended up donating over $200,000 to the Wounded Warrior Project and sent over 75,000 "Thank You" cards to wounded Veterans.
Heinz understood that a QR code could be a great way to connect with their customers and the ½ million QR code scans the campaign totaled is proof of that.  More companies should start using this technology in similarly creative ways to help drive business, increase their brand and/or help push some charitable cause like Heinz has done here.  If you aren't using QR codes to connect your traditional media with your mobile media, you are certainly behind the times but more importantly, you are falling behind in promoting your brand and likely losing potential customers.
---