QR Codes Drive Lego Sales
Posted on by
Timothy Boyle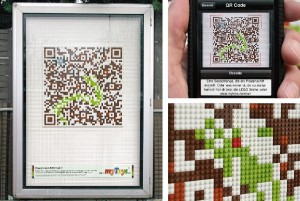 Here is another QR code success story for you.  MyToys.de is one of Germany's largest internet toy stores, and Legos are one of their largest product lines they offer.  So MyToys.de had a task for their advertising department: Advertise Lego, but do it in a creative way that will draw interest, but also make this marketing campaign bring people to the website to increase online Lego sales specifically.
Well if I were in MyToys.de's marketing or advertising department of course my initial thought would be to use QR codes, and that is most certainly what they did, but they did it is a far more creative way then most would have come up with (I guess that's why they are in marketing and I am not).
What MyToys.de did was build large 3'x3', colorful 3D QR codes.  These codes were then placed all around Germany for passerby's to scan.  Each code was different and had its own theme, containing some hard to recognize creative scene which could then be decoded upon scanning.  The makeup of the codes drew people in and allowed MyToys.de to capitalized on their curiosity.
Upon scanning of the code, the potential customer could decode the QR code's scene and/or be directed to MyToys.de's desktop website (of course they should have been directed to a mobile optimized site and not a desktop site, if only someone had read about QR code best practices before they ran this campaign).  From the desktop landing page particular Lego boxes were advertised and could be ordered right from there.
The results were great.  What this creative QR code campaign ended up doing was ensuring millions of Germans connected with and interacted with the Lego and MyToys.de brands in a fun way.  Even more importantly the success of the QR codes were clearly visible by the fact that 49% of all traffic to the MyToys.de website were tracked from the QR code advertisements.  This traffic helped drive sales for Lego, and in particular the Lego boxes advertised on the landing page people were directed to from the QR codes. In fact MyToys.de sold twice as many of these Lego boxes as opposed to the ones that were not advertised on the landing page.
MyToys.de, with their Lego QR code campaign, is one of the rare companies using QR codes (for the most part) right, getting creative with their advertising, and using modern technology to connect with potential customers and drive sales.  Any company that has traditional media and isn't using QR codes to creatively connect with their brand or merchandise is losing ground and more than certainly losing sales.
---