Improving Wedding Invitations with QR Codes
Posted on by
Timothy Boyle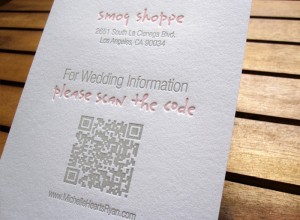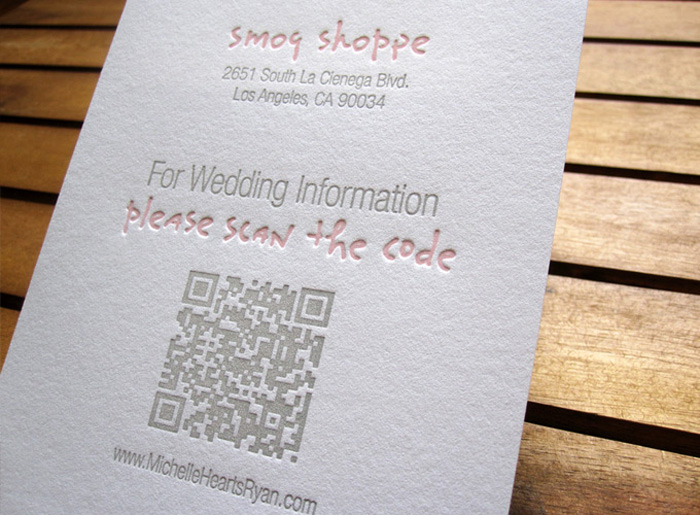 There are a million different ways to use QR codes but here is one for you brides out there:  Using QR code on your wedding invitations.
First, you will need to get over the fact that they aren't the most beautiful piece of art work, but if you find them so horrible to look at you can always customize your QR code to make it a little less of an eyesore.
After you have gotten over the look of the code, you will then notice the actual benefits, and the reason you would put them on your invitations.
A typical wedding invitation doesn't contain a lot of information for the guest, due in part because of a lack of physical space.  This means that other important information that the guest may require must be done through some other media source, usually email or telephone.  One way to streamline this information distribution and limit guest questions is to provide the information to all the guests through a simple QR code which they can scan once it is received.
Upon scanning the QR code the guest could be directed to a mobile optimized website with all important information the guest may require: driving directions, nearby airports, meal ingredients for allergies, gift register, hotel accommodations etc.  This should help limit the number of emails and phone calls the wedding planner receives, and make everyone's life easier.
Another very useful way the QR can be helpful to all parties involved is using the QR code for RSVP's.  Quite often people do not respond to RSVP's, perhaps they forget, they lose the card and envelope or whatever.  This can be a problem for the wedding planner as they are trying to determine seating arrangements, meal plans etc.
If a QR code were placed on the invitation for this purpose, the person receiving the invite could then scan the code and be directed right to a mobile landing page where they can quickly and easily RSVP, saving everyone time and hassle, not to mention mailing costs.
As usual QR codes can be a useful tool in so many different areas, weddings are no exception, so don't forget to use Qfuse in your future wedding plans!
Wanna Try Our QR Code Platform For Free?
One response to "Improving Wedding Invitations with QR Codes"