Posted on August 16th, 2013 by
Timothy Boyle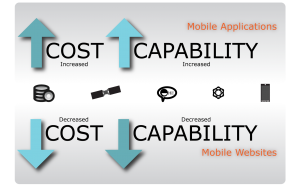 It seems everyone these days feels the need to come out with a mobile app, no matter what type of company they are, or if the app is actually useful for the consumer or not.  Sometime you might even find a company with a mobile app but no mobile website.  Perhaps the data in the Adobe 2013 Mobile Consumer Survey can help figure out which is best to offer to consumers.
The data gathered in this Adobe survey indicate a 60% average overall satisfaction rate for both mobile apps and mobile websites, though each is skewed greatly by the high satisfaction rates for the category of Consumer Electronics.  Eliminate this one category and the approval rating is only in the mid to low 50's.  What this indicates is that overall satisfaction has a long way to go, whether we are discussing mobile apps or mobile websites.  Therefore before you pour more resources into your app or website, it would be best to find out what it is your consumers want from these offerings and build your mobile platforms appropriately so that your limited dollars are used as efficiently as possible.
This brings us to the question of which platform to use.  The Adobe Survey results tell us that 58% of respondents prefer their online shopping experience on a mobile optimized website.  This compared to 42% who prefer a mobile application.  As Adobe notes, this might be due to the fact that an app requires downloading, installing, and continuously upgrading said app, while a mobile website requires none of these things.
Though these numbers indicate a majority prefer a mobile site over a mobile app (for shopping purposes at least), it is not substantial enough to ignore mobile apps entirely.  What this does mean though, is that before spending resources in the mobile app business, you should first be spending the resources in creating a mobile website that fills the needs of your target audience.
Once your mobile website is where it needs to be you should then focus on the mobile app space.  And here you must consider two things.  First, as I said above, you need to find out what your customer desires in an app and design it to create a good experience that will keep them coming back, and ensure the app is retained on their smartphone or tablet, rather than being deleted soon after installation.  Second, per the Adobe Survey, the number one reason someone downloaded a particular mobile app was because someone recommended it to them.  This indicates that the best way to advertise your app is likely through social networking channels.  Offering some sort of incentive for your customers to share your app through their networks might be the most efficient way to achieve the results you want.
As we have seen, the data seems to indicate that your number one priority should be getting you mobile website to near perfection, and only then focus resources on your mobile applications.  Both are important in today's market but one is clearly more important (and also less expensive) than the other.
2 Comments
| Read more by
Timothy Boyle