Posted on May 21st, 2013 by
Timothy Boyle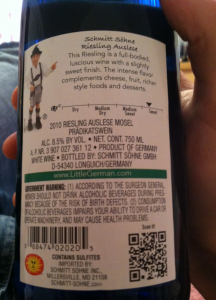 I was at the liquor store the other day picking up my gorgeous girl-friend's favorite bottle of sweet Schmitt Sohne wine.  When I got home and pulled it out of the bag I happened to notice a QR code on the back of the bottle.  Thus the newest QR code case study.
Not all QR codes I find are worthy of a blog—in fact most aren't—but every once and a while a QR code stands out and is able to illustrate great aspects of QR code use, or potential problems that can completely derail a QR code campaign and make it useless.  This is an example of the latter.
When QR Codes Go Wrong
After an initial look at the code not much stands out.  It looks like a pretty typical use of a code—which isn't necessarily a good thing.
The code is on the back and small, so it doesn't stand out.  Generally not a good thing if you are looking for people to scan it.  To make up for this issue a good call to action should exist; instead it only reads "Scan it!"  Incredibly enticing, wouldn't you say?
The QR code itself is fine; it's clear, has a low density and isn't terribly cluttered by things around it, so in that way it is perfect.  Because of this I easily scanned the code and waited in anticipation for the beautiful mobile optimized landing page that surely awaited me…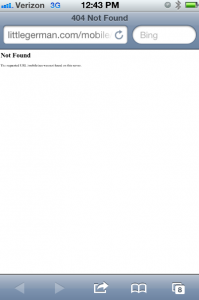 Really?  "Not Found"?  …Probably not ideal for your QR code campaign.
I have never addressed this before, though I have seen it a handful of times, but having a working landing page is kind of vital to a successful QR code campaign.  So before you go to print your QR code on all of your product packaging make sure you have tested it and your mobile site is up and running.  Otherwise what happens is what you see above.
Using a QR code is not just some throw in marketing tool; it takes some serious thought and effort and cannot be put together on a whim.  Make sure if you choose to use this tool you do it right.  If you do, it can be incredibly valuable to your business.
Using Qfuse can help make sure problems like the one you see above do not happen.
2 Comments
| Read more by
Timothy Boyle